Ashes 2013-14: ICC to urge Ashes players to 'calm down'
Last updated on .From the section Cricket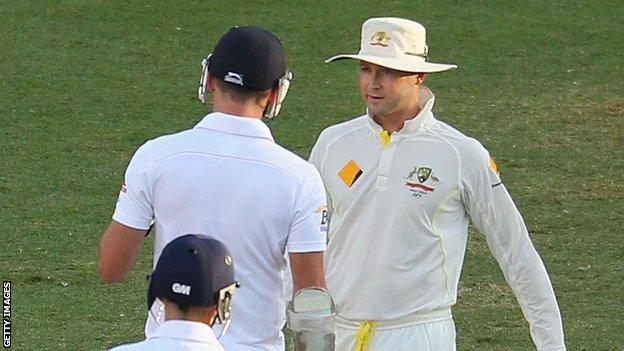 Australia and England will be urged to calm down by the ICC match referee before the second Test in Adelaide.
In a bad-tempered Ashes opener, Australia captain Michael Clarke was fined for an obscenity while warning James Anderson to expect a broken arm.
Australian opener David Warner was also criticised for being "disrespectful" by England captain Alastair Cook.
England manager Andy Flower wants a balance to be struck between "intense" cricket and acceptable behaviour.
"I think there are standards of behaviour that individuals and teams must set themselves," said Flower.
After day three in Brisbane, Warner called Jonathan Trott "poor and weak" and claimed England's batsmen had "scared eyes" as the hosts recorded a 381-run victory.
Trott has since flown home after leaving the tour because of a stress-related illness, though Flower insists Warner's comments had no impact on his decision to leave.
It is common procedure for the match referee to talk to captains before a Test match, usually about matters such as playing conditions.
But Jeff Crowe is set to remind players of their responsibilities to try to keep a lid on the sledging and confrontational behaviour.
Flower added: "The competition should be intense. It's played between two proud cricketing nations.
"But I think we need good leaders, who know where to draw the line, and they need to be good role models."
Australia coach Darren Lehmann was cool on the idea of summit talks with Flower to try to defuse this winter's Ashes tensions.
"We're still going to play really hard cricket - that's what we're about," said Lehmann.
"We copped a lot in England, and we didn't shy away from that.
"That's just the way it goes. Both teams played hard - and as long as it stays on the field, I'm happy with that."