Jonathan Trott: 'No timescale' for England star's return
Last updated on .From the section Cricket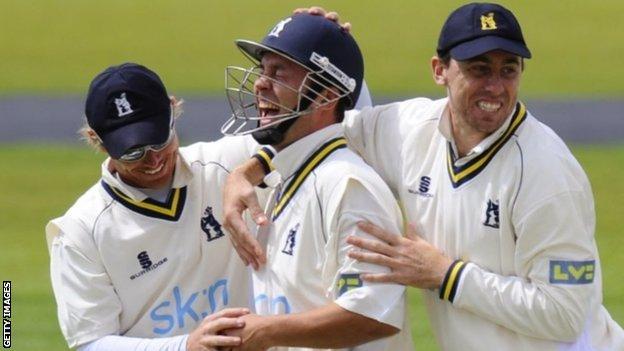 Jonathan Trott's county side Warwickshire say there is no timescale on when he will play again following his return home from England's Ashes series in Australia.
Bears batsman Trott has flown back to be with his wife and young family in Birmingham after leaving the tour because of a stress-related illness.
"It's all about Trotty getting better," said director of cricket Dougie Brown.
"There's no timescale from us and I'm sure there's not from England either."
Trott, 32, left Australia in the wake of England's 381-run first Test defeat in Brisbane to recover from a "long-standing stress-related condition", having scored only 19 runs in two innings as he struggled against the hostile bowling of Mitchell Johnson.
"Whilst he might be an England player, and I'm sure England will have his wellbeing at the front of his mind, we'll be giving him and [wife] Abi as much as support as we can," Warwickshire chief executive Colin Povey told BBC Coventry & Warwickshire.
"We've been aware that he's been managing the situation for a while now, a number of years.
"In the past, where he's having to deal with difficult circumstances, we've sort of rallied the wagons around him.
"He's been a centrally contracted England player for a number of years but, at the end of the day, he's still a Bear.
"He's very close to a lot of people at the club. He has a lot of good friends, a lot of close friends and supporters at club. And he knows that.
"We just want to see him back playing some cricket and enjoying himself. That's the most important thing."
Brown has consulted both with former Warwickshire coach Ashley Giles, England's one-day coach, and former England opener Marcus Trescothick, who also returned home from Australia in 2006 with a similar condition.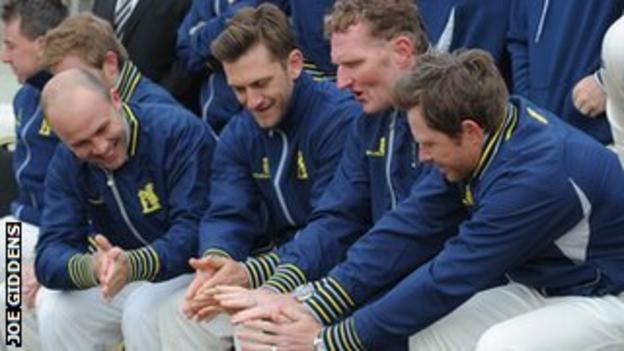 And he admits there is ignorance over the sort of problems that Trott has had to face which caused him to call for help.
"I've never had any sort of illness like he is going through," Brown said. "So I don't really know what he is going through.
"But the Warwickshire guys are all very supportive and understand it's a tough time for him.
"Suffice to say, he's welcome back here any time, into a safe, good environment.
"He is in good hands. He has a great support network around him. And we all hope Trotty gets back to playing his best cricket as and when is good for him and the time is right.
"It would be a shame if somebody of his calibre isn't able to go back to where they've come from,
"He's a great guy. And the game would lose somebody who's a great asset.
"With Jonathan Trott in the side, you're not going to be worse off for it."