Scotland will not take Italy lightly, says former captain Craig Wright
By Kenny Crawford
BBC Scotland
Last updated on .From the section Cricket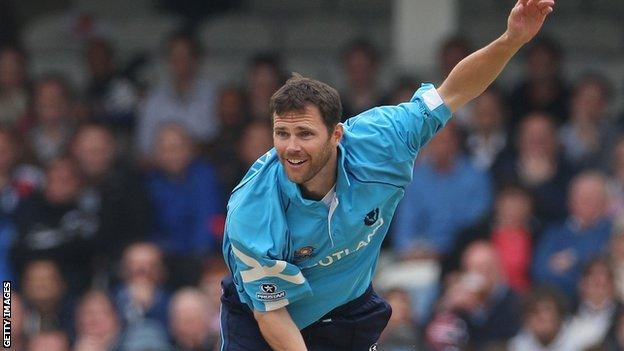 Former Scotland captain Craig Wright says a blend of confidence and caution is required for their World Twenty20 qualifying play-off against Italy.
Wednesday's match in Abu Dhabi follows Scotland's fourth-place Group B finish.
"They've got some dangerous players," Wright told BBC Scotland. "Gareth Berg plays in county cricket for Middlesex.
"So there's certainly no way we'll be taking them lightly. We'll do our homework and make sure we're ready for the game to tackle it head on."
Scotland's match against Italy, who ended Group A in fifth, begins at 0600 GMT on Wednesday and they must win it to remain in contention for qualifying for the 2014 T20 World Cup in Bangladesh.
The winner will play the loser of Netherlands v United Arab Emirates on Thursday. One final play-off game would then remain.
Wright captained Scotland between 2002 and 2007, appearing in a cricket World Cup in 2007 and two Twenty20 World Cups in 2007 and 2009.
He now fulfils the role of performance development manager.
Despite struggling early on in the qualifiers, Scotland go into the Italy match off the back of three wins against Papua New Guinea, the Netherlands and Denmark.
"The mood's good," said Wright, an all-rounder in his playing days. "Obviously the guys have played some really good cricket in the last couple of games.
"We've got a final day off on Tuesday and hopefully if everything goes well, three games in the following three days after that.
"Even when we were struggling a little bit at the start of the tournament, everyone stayed pretty level and pretty calm.
"So I think it's a credit to the players that they've managed to turn things round after the sort of wobbly start."
"The Papua New Guinea game and the Netherlands game, particularly, give us a lot of confidence going into the play-offs."
And as he casts his eye over the current Scotland crop from the sidelines and in training, Wright is convinced they are going in the right direction.
"There's an awful lot of talent in this group," he said.
"They're all very focused and determined to make sure that they get the opportunity to play in World Cups in the same way that I was fortunate to do.
"They've got the opportunity to qualify for the T20 World Cup and then in January they've got an opportunity to qualify for the 50 over World Cup.
"I certainly believe there's enough talent in this group to hopefully qualify, and if we qualify, to go and put on a good show if we get there."