David Warner: I went too far with Jonathan Trott comments
Last updated on .From the section Cricket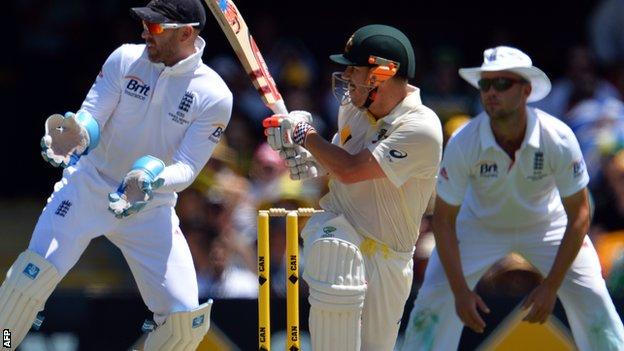 Australia batsman David Warner has admitted he "went a little bit too far" when he described Jonathan Trott as "poor and weak" during the first Test.
"I made those comments for a reason," Warner said. "[On Sunday] the bounce and pace got to them again.
"It is Ashes cricket - probably went a little bit too far with the comments."
England captain Alastair Cook accused Warner, 27, of being "disrespectful" when he made the comments during a news conference at the end of the third day.
Trott scored only 19 runs in the match as England crumbled to a 381-run defeat inside four days at the Gabba in Brisbane.
Following Trott's second-innings dismissal, when he struggled against the pace of Mitchell Johnson, former England captain Michael Vaughan was also critical of the England number three's performances.
However, Vaughan admits he now regrets making those comments in light of what the player has been dealing with off the pitch.
"The hardest thing about it is that it's [stress] not visual," Vaughan told BBC Radio 5 live. "I was involved in the England team a few years ago when Marcus Trescothick went through some terrible times and it all came out all of a sudden.
"I don't know how long it's been going on for Jonathan but clearly this week he wasn't right. I criticised him in the second innings and I wished I hadn't. I wish I had known he was going through so many troubles."
Trott's England team-mates Stuart Broad and Graeme Swann have both tweeted their support for the player, as has Australia coach Darren Lehmann who wrote on social media: "I wish Jonathan Trott a speedy recovery from a tough situation, a safe flight home to be with family!"
Former England fast bowler Steve Harmison, who also endured problems while on tour with his country, believes Warner's comments about Trott were "bang out of order".
"Just remember this guy has a short memory," Harmison told BBC Radio 5 live. "Six months ago this guy attacked an England cricketer and every time any England player was asked they said Cricket Australia were dealing with it.
"That showed respect. David Warner's mouth was three seconds quicker than his brain. It sums him up. He might be a fantastic, explosive cricketer but every time that bloke opens his mouth something stupid comes out of it.
"I've defended him a lot as I used to play with him but that was the final straw, it was horrendous. To try and humiliate a fellow cricketer was bang out of order."
Warner, who has scored 1,574 runs in 23 Tests, was suspended by Australia on their Ashes tour to England in the summer after punching England's Joe Root in a bar. He returned to the team for the third Test at Old Trafford.
Former Derbyshire and Lancashire wicketkeeper Luke Sutton, 37, also offered his support to Trott, who he called "a quality person and player".
Sutton was treated for depression and anxiety during the 2011 county season, and he used his Twitter account to criticise Warner's comments during the first Test.
"David Warner should feel ashamed of his comments on a fellow pro. Warner wasn't to know - but that's the point. Don't make comments about a fellow pro because you don't know what's going on. Very poor by him."