Jonathan Trott: Trescothick supports England batsman
Last updated on .From the section Cricket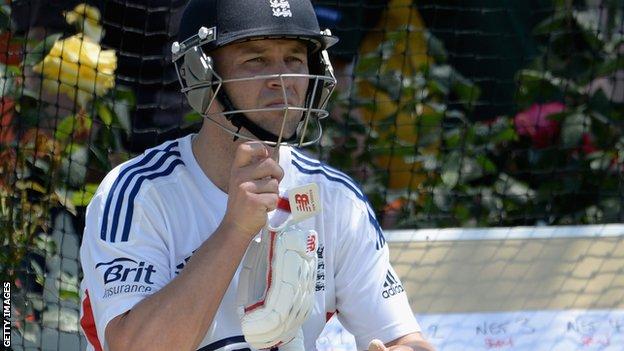 Jonathan Trott made the right decision to leave England's Ashes tour, says ex-England batsman Marcus Trescothick.
"It would have been horrible for him to make that decision to come home," Trescothick told BBC Radio 5 live.
"[But] he's definitely made the right decision to take a bit of time off."
Warwickshire batsman Trott endured a difficult time in the first Test in Brisbane, which England lost by 381 runs, scoring only 19 runs in two innings as he struggled against the bowling of Mitchell Johnson.
His departure means England will have to change their batting order for the second Test, which begins in Adelaide on 5 December, but the player has the full support of the dressing room.
"Love Trotty," England bowler Stuart Broad said. "Absolute champion of a man. He knows he has all the support of all the people around him. Puts cricket in perspective."
Former opening batsman Trescothick left the 2005-06 India tour and the 2006-07 Ashes tour of Australia, while left-arm spinner Michael Yardy flew home from the 2011 World Cup.
Trescothick's stress-related illness was depression. He said it could be "debilitating", affecting anybody at any time.
"It grinds you down and just gets to you non-stop," added 37-year-old Trescothick, who played 76 Tests for England and scored 5,825 runs at an average of 43.79.
"There's no hiding place from it, it's 24/7. It doesn't take into account what house you live in, what car you drive, what job you do and how much you get paid.
"The mind is an amazing thing that people are trying to understand and control. Jonathan's got to just take a bit of time to get back on track and get back happy again."
Trescothick's comments were echoed by former England fast bowler Steve Harmison, who also suffered problems while away on tour with his country.
"When it gets you, it controls you, and when it controls you, you have got no hiding place, you have got nowhere to go," Harmison, whose last Test was Trott's first, in the 2009 Ashes, told BBC Radio 5 live.
"You don't eat, you don't sleep, you are so insecure, you think the world is on top of you and once it does get you, that is it.
"It doesn't matter what happened to Jonathan Trott before this episode. He's done a brave and courageous thing, because, to be fair, it is admitting defeat when you have to come home."
Following the third day's play in the first Test, when Trott had been dismissed in the final session, Australia's David Warner described Trott as "poor and weak".
England captain Alastair Cook has since said those comments were "disrespectful" while coach Andy Flower says that interview was not the reason for Trott's departure from Australia, adding the batsman has been suffering with the condition for a period of time.
England's Ashes tour will run into the new year and Trott might have been involved in the one-day series which follows, finishing at the end of January.
"Cricketers are away from home for a long time and it is a lonely existence," said BBC cricket correspondent Jonathan Agnew. "People have stresses in all of their lives and there will be some who say: 'Hang on, playing cricket for a living, how can that be stressful?'
"Well, this is an illness which clearly a lot of people don't understand. I don't, for one moment, claim to understand mental illness.
"Jonathan Trott felt unable to carry on. If you watch him, the way he batted the other day, he was suffering and all over the place. Clearly, he needs time at home."