Ashes 2013-14: Mitchell Johnson 'never lost belief'
Last updated on .From the section Cricket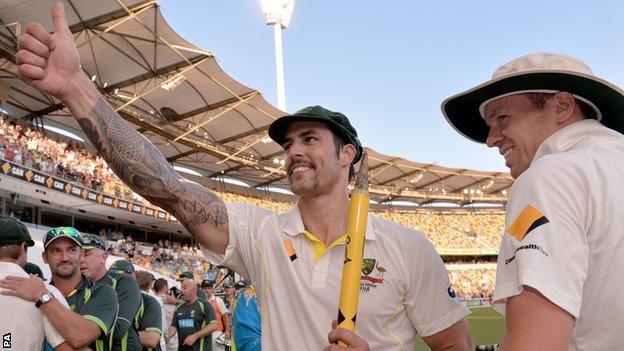 Australia's Mitchell Johnson says he never doubted his ability after a superb performance on his Test return.
"I have performed well for the last 12 months, it was just about getting an opportunity," said Johnson.
"I was nervous on day one but once I got past those nerves I was fine."
Johnson was named man-of-the-match for his fine all-round display as he helped Australia recover from 132-6 in their first innings to post 295 all out.
He then bowled with pace and aggression on the second day as England collapsed to 136 all out - at one stage losing six wickets for nine runs in 10 overs.
He added an unbeaten 39 in Australia's second innings before a five-wicket haul reduced England to 179 all out and one of their heaviest Ashes defeats.
"I used the pitch to the best of my knowledge," said Johnson. "Those cracks started to open up and it played into the batsmen's minds a little bit.
"When I took the last wicket, all the boys were crowded in and the look on everyone's faces was a special moment and one I'll never forget. Everyone has stood up in this Test match, I'm really proud of how the boys performed.
"To go 1-0 up in the series is the perfect start. To do it in four days is good too because it gives us extra rest before we get back into it in Adelaide."
Johnson's performance has given England problems ahead of the second Test in Adelaide, which begins on 5 December. Jonathan Trott, in particular, was worked over by the left-armer.
And former England captain Michael Vaughan is worried that Johnson, who returned match figures of 0-170 in Brisbane three years ago before being dropped, could now hold a psychological edge over England.
"This could have long-term effects because they have been blown away," said Vaughan on Test Match Special. "People are trying to avoid facing Johnson.
"They will know they have a lot of soul-searching to do. They have to come out with a different mindset in Adelaide. This is one tall order."
It was Johnson's first Test since he failed to take any wickets against India in Delhi in March, but England captain Alastair Cook is confident his side will work out a method to succeed against the Queenslander.
"Obviously he's bowled very well and put us under some pressure which is something that we need to work on as a side going into the Adelaide game," said Cook, who scored the 33rd half century of his Test career in England's second innings.
"We've faced a lot of him in the past and been successful as well. There are times when he's got on top of us and there are times when we've certainly had success against him as well."
Whatever plans England devise for Johnson at Adelaide, Australian coach Darren Lehmann believes the all-rounder should be proud of his performance in the first Test.
"Mitchell Johnson has got his confidence back and he was the difference here - first with the bat, then he blew the game away with the ball on day two," Lehmann added.