Kent: Rob Key replaces James Tredwell as captain
From the section Cricket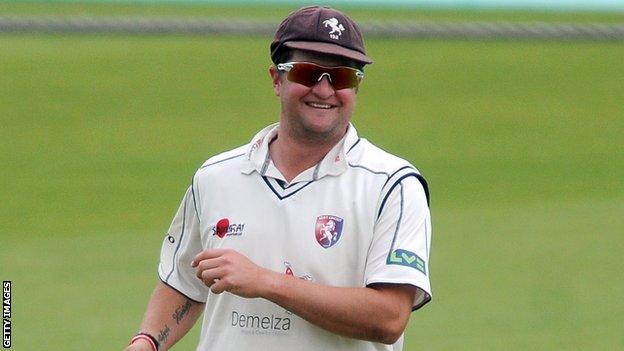 James Tredwell has resigned as Kent captain, with former skipper Rob Key appointed as his replacement.
"Coming to this decision is pretty tough," Tredwell told BBC Radio Kent.
"If my involvement with England continues I won't be around a great deal. I felt the team and the group needed a leader there more regularly."
Batsman Sam Northeast, 24, has been named Key's new vice-captain.
Kent only won three Championship matches last season and finished seventh in Division Two.
Tredwell's personal form also suffered, and he had to wait until mid-July for his first Championship wicket before finishing the season with 17 wickets at an average of 56.76.
He also missed some of the county season while playing in a one-day series against New Zealand and the Champions Trophy.
"Maybe I was a bit hasty in taking the role on initially and should have thought a bit deeper," Tredwell continued. "I genuinely thought I could have a real impact and I still do - if I was able to give it my full attention full-time.
"I have got to look at the bigger picture and that is to have a leader around more often than not. If I was away I didn't want to put the team in a position where we were not in the best possible shape."
Kent chairman of cricket Graham Johnson revealed that the club were concerned about demands on Tredwell in 2014.
"Because of his likely involvement with England, we would not see James until June," Johnson said.
"All three [Key, Northeast and Tredwell] are capable of captaining Kent. We like to appoint captains with a Kent background.
"We are confident it puts us in a very good position going forward. We wanted to do it as early as possible."
Key, 34, said he was happy to return to the captaincy role despite only stepping down last November to concentrate on his batting.
"It's a pretty extraordinary circumstance. I look forward to the challenge that it is," he said. "Now is the best time to work out strategies.
"There will have to be a time where someone like Sam can take the job on, [but] hopefully the players and club think I'm the right man. I was more than happy to accept."