Ashes 2013-14: Adelaide ground guide, history and statistics
By Mark Mitchener
BBC Sport
Last updated on .From the section Cricket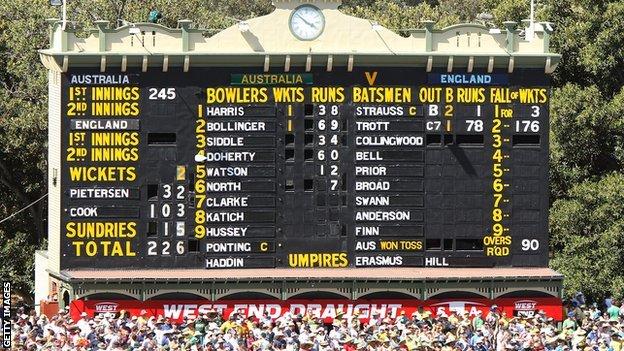 The genteel surroundings of the Adelaide Oval, next to the River Torrens and overlooked by St Peter's Cathedral, mean it has traditionally fared well when tourists are asked to name their favourite grounds.
The grassy bank at the Cathedral End, in front of the famous old-fashioned scoreboard, is popular with England's Barmy Army - but that may soon be all that is left of the "old" Adelaide Oval, with redevelopment under way to demolish the Sir Donald Bradman and Chappell Stands and large stands being built to match the new western stands which were in place for England's last visit in 2010.
Bradman and the Chappell brothers are among South Australia's famous cricketing sons, as is current Australia coach Darren Lehmann.
Nearby attractions for visiting fans include the Barossa Valley wine regions, including the original Jacob's Creek, while the popular beachside suburb Glenelg is a short tram ride away.
Adelaide Oval in numbers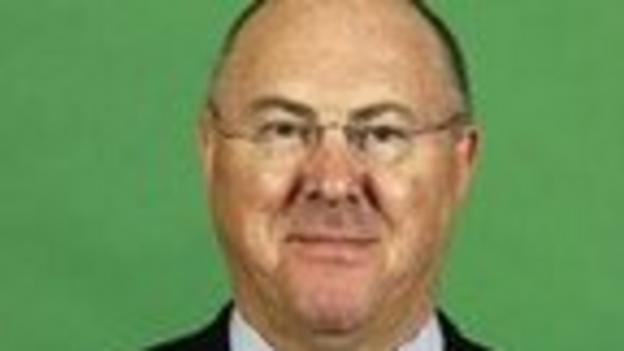 BBC Test Match Special statistician Malcolm Ashton presents Adelaide's Ashes records:
Ashes Tests: 30 (Australia won 16, England won nine, with five draws)
First Ashes Test: 12-16 December 1884 - England needed less than four days to pull off an eight-wicket win. Billy Barnes made 134 for England, the highest score of the series, while Yorkshire left-arm spinner Bobby Peel opened the bowling, taking 3-68 and 5-51 on his debut.
Highest Ashes total: 620-5 declared by England in December 2010 (see "Champagne moment" below).
Lowest Ashes total: 100 all out by Australia in March 1892. Johnny Briggs (6-49) and George Lohmann (3-46) bowled unchanged as the hosts crumbled on a wet wicket.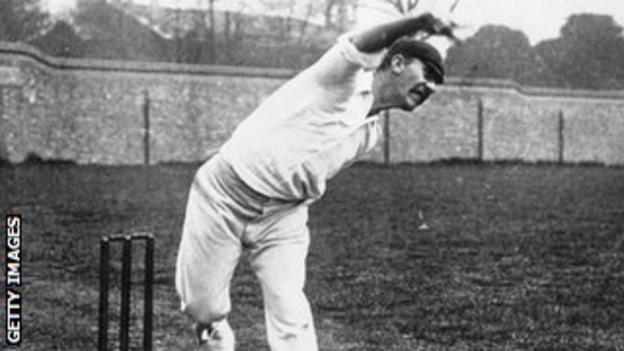 Highest individual Ashes score: 227 by Kevin Pietersen in 2010 (see "Champagne moment" below).
Most Ashes runs: 643 by Adelaide-born left-hander Clem Hill. His run of Ashes scores on his home ground between 1898 and 1912 was 81, 98, 97, 88, 16, 5, 160, 0 and 98.
Best Ashes bowling (innings): 8-43 by Australia's Albert Trott in January 1895, on a remarkable Test debut in which he scored 110 runs without being dismissed. He is better known as the only man to hit a six over the current Lord's pavilion.
Most Ashes wickets: The record of 16 is shared by three spinners - England's Johnny Briggs, and Australia's Arthur Mailey and Shane Warne.
Ashes runs scored: 18,265, for the loss of 494 wickets at an average of 36.97 runs per wicket.
Ashes boundaries: 1,622 (1,586 fours, 36 sixes)
Classic Ashes match: Third Test, 1933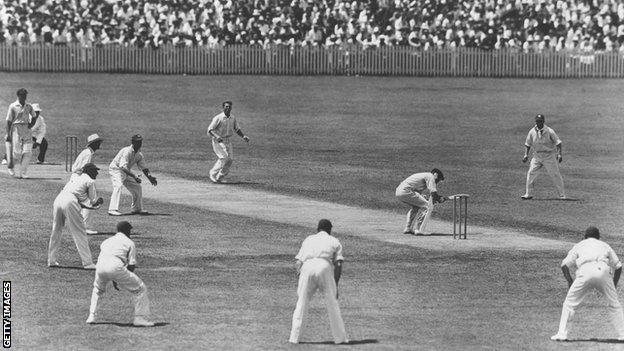 The "Bodyline" series of 1932-33 has gone down in history as one of the most famous, or infamous, Test series.
England captain Douglas Jardine devised a "leg theory" strategy to nullify the threat posed by Australia's Don Bradman, the best batsman in the world, as Jardine believed he was vulnerable to short-pitched bowling.
His weapons of choice were Nottinghamshire pacemen Harold Larwood and Bill Voce, bowling short-pitched deliveries at the batsman's body with several close fielders posted on the leg side. With the series level at 1-1, "Bodyline" hit the headlines during the Adelaide Test.
England recovered from 30-4 to make 341, and the first flashpoint came on the afternoon of day two. Captain Bill Woodfull was struck over the heart by a Larwood short ball when a conventional field was in place. He took several minutes to recover, but for the next ball he faced, Jardine switched to a "Bodyline" field, which served only to further anger the crowd.
Woodfull held on, making 22 before being bowled by Gubby Allen, and later famously told England manager Pelham Warner: "There are two teams out there. One is playing cricket, the other is making no attempt to do so."
Worse was to follow on the third day, when wicketkeeper Bert Oldfield tried to hook Larwood and was struck on the head. Forced to retire hurt with a fractured skull, Oldfield absolved Larwood of responsibility, blaming himself for the mis-hook.
Australia were bowled out for 222, England made 412 in their second innings and bowled Australia out for 193 to complete an emphatic victory.
But the rest of the game was overshadowed by a rancorous exchange of cables between the Australian board, who considered England's tactics "unsportsmanlike", and the MCC, who furiously demanded the word be retracted.
What happened next? England won the Ashes 4-1, with Bradman's average for the series a mere 56.57 - compared to his eventual career average of 99.94. MCC changed the Laws of Cricket to outlaw a "direct attack" on the batsman, and later outlawed having more then two fielders behind square on the leg side.
Larwood, who felt he was made a scapegoat by MCC, never played for England again after he refused to apologise for Bodyline. He emigrated to Australia and became close friends with Oldfield.
Champagne moment: 6 December 2010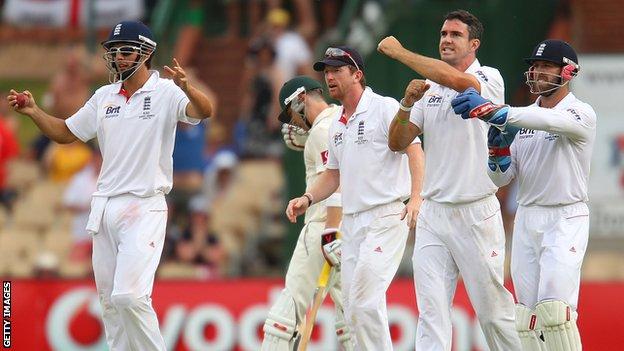 Kevin Pietersen won the man-of-the-match award for his 227 in the second Test at Adelaide in 2010-11, but he also made a pivotal contribution with the ball.
The game started in dramatic fashion as Australia slipped to 2-3 on the board. Simon Katich was run out in the first over by Jonathan Trott's direct hit, Ricky Ponting edged his first ball to second slip and Michael Clarke fell the same way two overs later, although Australia recovered to 245 all out.
In reply, England captain Andrew Strauss was bowled shouldering arms to Doug Bollinger, but Pietersen, Alastair Cook (148), Trott (78), Ian Bell (68 not out) and Paul Collingwood (42) helped England to declare on 620-5 early on day four.
Australia needed 375 simply to make England bat again, but the rain which had affected the third and fourth days was forecast to return with a vengeance on the final day.
With three overs left on the fourth day and Clarke and Mike Hussey closing on a century stand, Strauss took off Graeme Swann, who had bowled 34 consecutive overs, and turned to Pietersen's part-time off-spin.
In the last over of the day, Pietersen delivered a sharply turning off break which Clarke edged to Cook at short leg via bat and pad.
Although the umpire remained unmoved, England successfully reviewed the decision. The irrepressible Pietersen had his fifth Test wicket and had dealt a body blow to Australia's hopes of saving the match.
What happened next? Breaking the Clarke-Hussey stand proved crucial for England, who took the six remaining wickets within 20 overs next morning to wrap up an innings victory.
A torrential storm hit Adelaide early that afternoon, but it was an hour or two too late to save Australia.