Tony Cottey predicts bright future for Glamorgan despite final loss
Last updated on .From the section Cricket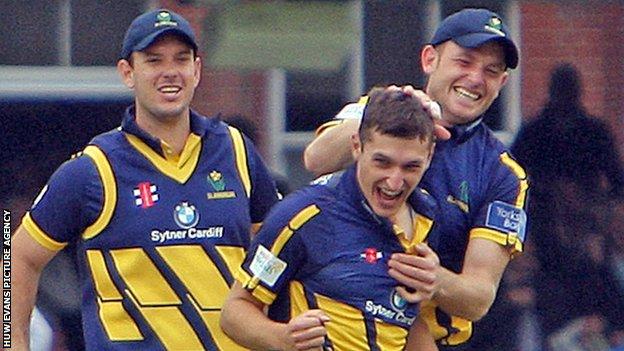 Former Glamorgan batsman Tony Cottey believes there could be good times ahead for the county despite losing the YB40 final at Lord's.
Nottinghamshire won by 87 runs to leave Glamorgan as the only first-class side never to have won a Lord's final.
But Cottey, who won two titles with Glamorgan, is optimistic.
"There are some really good signs for Glamorgan and everyone should be looking forward to some success," said Cottey.
Glamorgan have now not won a title since the 2004 one-day league title and they have now lost three Lord's finals.
But Cottey, who hit the winning runs to help lift the 1993 Sunday league title and was part of the 1997 Glamorgan side, says they are getting the right personnel on and off the field.
That includes the appointment of Hugh Morris, the former county opener, as director of cricket after 16 years of high profile jobs with the England and Wales Cricket Board.
Glamorgan have also announced the recruitment of South Africa batsman Jacques Rudolph as their overseas player for 2014.
As well as that Glamorgan have advertised the job of coach as they look for a replacement for Matthew Mott, who is leaving at the end of the season.
"Belief is everything in a cricket club. Before I have felt Glamorgan have had a good side on the field but maybe the belief wasn't there," said Cottey.
"They have some good experienced players - [Jim] Allenby has just signed a long contract so has [Michael] Hogan. Jacques Rudolph has just signed who is a quality player.
"Hugh Morris coming back has got to be a good thing, he knows cricket inside out.
"Andrew Salter [the 20-year-old off spinner] came in [at Lord's] and got a wicket with his second ball and looked the part."
Glamorgan are also hoping to re-sign batsman Murray Goodwin but they have yet to agree the length of his contract.
Cottey paid tribute to bowler Simon Jones who played his final 40-over game on Saturday to concentrate on T20 cricket.
Jones played 18 Tests for England and was part of the 2005 Ashes-winning side, but his career has been blighted by injury.
Cottey said Jones could be considered as one of the Glamorgan greats.
"He has had some great, great highlights in his career but injury has really curtailed what could have been a fantastic career over 10 years [and] he could have played a lot more games for Glamorgan and England."
Jones is due to have talks with Morris over the next few weeks to discuss a T20 contract with the county.