Dimitri Mascarenhas: Hampshire all-rounder hopes for IPL finale
Last updated on .From the section Cricket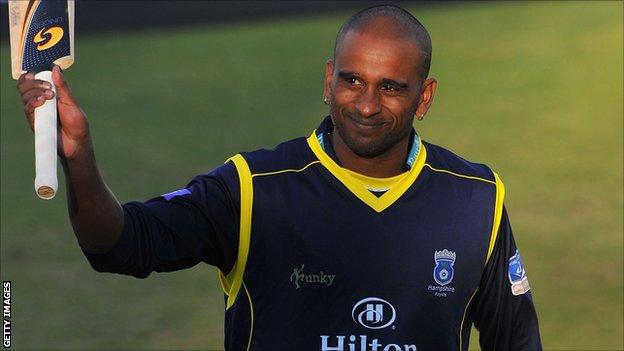 Hampshire's Dimitri Mascarenhas hopes to have one last crack at the Indian Premier League after playing his final game in England.
But he says he is still keen to make another appearance in the IPL.
"I won't count it out, it would only be T20, but if something came up (in the IPL) I would jump at the chance," the 35-year-old told BBC Radio Solent.
"I will put myself in the IPL and you never know it's a toss of coin. If it happens it's brilliant but if not it's not the end of the world."
Mascarenhas has played for Rajastahan Royals and Kings XI Punjab in the IPL, and has also played overseas T20 cricket in Australia, Bangladesh and New Zealand.
The all-rounder has helped Hampshire win up five domestic trophies during his time with the club, and having reached finals day in the Flt20 and the YB40 semi-finals this summer, he admitted to being disappointed by not adding to that collection.
"I hoped for at least one final," he admitted. "That would have been nice, but we haven't performed in two big semi-finals and it wasn't to be."
Despite bowing out on a losing note, Mascarenhas said he would look back on the past 18 years with fond memories.
"It's been a long time, we've had a lot of success, especially recently and that's been great," he added.
"It took me 10 years to get to Lord's and to play in a couple of Lord's finals and T20 finals day a couple of times has been phenomenal.
"I'm very sad it's all over. I've been here a long time and I still enjoy playing and still feel I'm contributing to the team. It's tough to leave, but nice to go out on my own terms but that doesn't make it any easier."