YB40: Glamorgan title would top Ashes win, says Simon Jones
Last updated on .From the section Cricket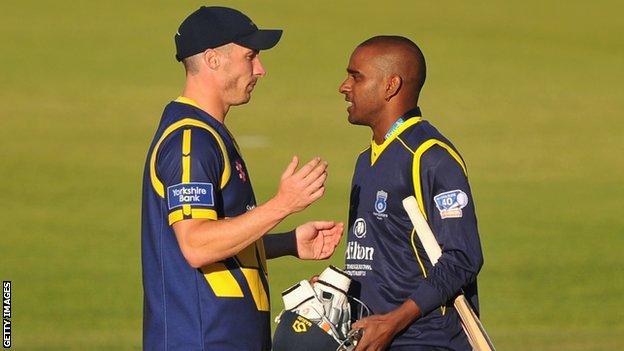 Fast bowler Simon Jones says winning the YB40 with Glamorgan would be bigger than lifting the Ashes with England.
Glamorgan reached the final at Lord's, where they will play Somerset or Nottinghamshire on 21 September, with a on Saturday.
Jones was part of the 2005 England side that reclaimed the Ashes from Australia for the first time since 1987.
"It's bigger because [when] you look at an England team, it's the cream of the crop," he said.
"Just to work with these [Glamorgan] boys - just to see how hard they've worked to get here - it's a special feeling.
"For us to be at a Lord's final, no-one would have said that at the start of the year.
"We believed in ourselves and rightly so, because we know the talent we have in our squad, but I'm gobsmacked."
Jones is in his second spell with Glamorgan and is as his current two-year deal will expire at the end of this season, but a Lord's final could provide a fitting end to his spell with Glamorgan if no agreement is reached.
But the pace bowler is full of confidence after their semi-final performance at the Ageas Bowl against former club Hampshire, for whom he played from 2009-11.
"We've always come close but we've never had that killer instinct just to finish people off," said the 34-year-old.
"To beat Hampshire by 31 runs, the holders, is an unbelievable feeling and it's something we can take into the final, and I think people will really respect us now.
"It's tough [on Hampshire]. I had some good times here but I'm a Welsh boy through and through and to come back and beat these boys is special.
"They're a serious outfit; they've got a real good team. They're very organised and to for us to beat them like we did, being underdogs... we smashed them."
The Welsh county have not won any silverware since 2004, when Robert Croft captained Glamorgan to the one-day league title, and it will be their first Lord's final for 13 years.
Now Jones can look forward to playing at Lord's for the first time with the county where he began his senior career.
"I've played there a few times with England but never with Glamorgan. One of the things I've always wanted to do is represent Glamorgan at a final and I can't wait," he added.
"Yes, it's a very big stage but we've got to the final on merit, we've done things right - bowled well as a group, batted well as a group - it's an outstanding feeling because as a unit we're so tight.
"It's just a credit to everyone how hard we've worked and it's just nice to be there because we all deserve it.
"I'm just so pleased for Matthew Mott [the head of elite performance who at the end of this season]. He's had a three-, four-year plan coming into this and it's about time someone gave him some praise.
"Things are looking up now. We came close in the T20. We haven't quite performed in the four-day stuff, but that's what it is."