Will staging an Ashes Test help Durham join cricket's elite?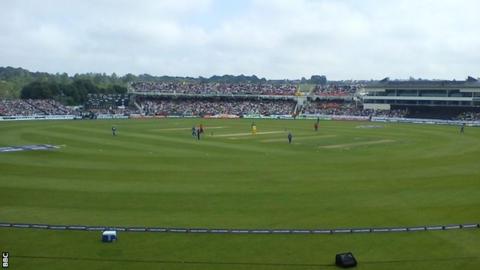 Durham may be the youngest county and only in their 21st year of first-class cricket, but staging Friday's fourth Ashes Test between England and Australia will admit them entry to an exclusive club.
Since the inaugural fixture in 1882 just eight venues have been used in England and Wales, with Cardiff's Swalec Stadium the latest to be added to the list when it hosted the opening Test of 2009.
Bringing the fixture to the north east is a significant coup for a club whose rapid rise as a first-class county has also brought one-day and County Championship silverware, in addition to a prolific academy which has yielded talent such as Steve Harmison, Paul Collingwood and Graham Onions for the England side.
The arrival of the Australia team also represents a step up in the quality of opposition, having delivered successful Tests against Zimbabwe, Bangladesh and the West Indies since Chester-le-Street's debut in 2003.
Is this the moment that Durham finally join the county 'elite'? Or does a club in relative infancy need to prove itself over hundreds rather than tens of years?
BBC Sport has spoken to figures involved in the game to gain a cross-section of views.
England and Nottinghamshire spinner Graeme Swann
"Chester-le-Street has only been a first-class ground for 15-16 years, and to get an Ashes Test match so quickly is magnificent. Sport has always thrived in the north east, and for Durham to have such success in such a short period of time as a first-class county, it's great it's been recognised in an Ashes Test match.
"The holy grail of Test cricket has landed, I'm sure they'll put on a good show and if the weather holds out, like I'm sure it will, it will be an incredible five days.
"They are an elite county, I think any county that regularly challenges or wins the County Championship can see themselves as a huge county these days. They've got the ground, they've got the facilities and they've got the players as well so they're definitely up there."
Geoff Boycott - BBC Test Match Special commentator and former England Test cricketer
"The national side belongs to everyone in Great Britain and it's great it should be played all over so everyone has the opportunity to get to a Test match without travelling an enormous amount.
"What you've got to accept is Durham is a young county. Most of the counties like Yorkshire - where I am president and we are in our 150th year and not the oldest - have a lot of tradition and history.
"You've got to be patient and make your own history, and over the years Durham will. They seem to be run quite properly and they've got a lovely ground. I remember many years ago when there was no stadia there, just a ground. It was a lovely cricket ground but nothing there and look how it's grown.
"In 30 or 40 years' time Durham will have a 50-year tradition in terms of Championship and Test cricket. Deep down Newcastle and the surrounding areas are a sporting part of the world, but they haven't had cricket to really support until the last few years."
England and Wales Cricket Board chief executive David Collier
"Since they became a first-class county in 1991, Durham has become part of the family and are now one of the established 10 international venues. I think given that they were the first club to be granted first-class status in 70 years, it really is an amazing achievement to have made the progress they have over the last two decades.
"Durham as a minor county before their first-class status had a proud and rich history, in fact the first Durham county side played MCC in 1876 and beat the touring Australians in 1878, so it just shows how rich the history has been.
"They've probably got the best minor counties record ever with nine championships, and now with over 100 first-class games at Chester-le-Street have the ground and the team that the north east should be very proud of.
"The way the ECB operates, we have a major match group that awards the matches, but there are 10 international venues and each of those bid for certain matches and Durham have bid very successfully for those over the last few years. They've staged not only Test matches but also a large number of one-day games. This year Chester-le-Street will host not only the men's Ashes but also the women's Ashes as well."
Durham County Cricket Club chief executive David Harker
"We're certainly now members of a very select club in terms of Ashes venues. When you think of the club you think of everything that we provide in terms of a domestic team which is clearly now competitive; our youth development programme which has been highly successful, and you look at the venue which is now staging probably the most iconic series in Test cricket.
"Whether or not we're an elite club, we're certainly one of the big boys now. In terms of tradition and culture we'll never be the oldest venue, but one of things we'd like to think is we're a warm and friendly venue and distinctive in that regard.
"In terms of creating our own history, I'd like to think we're creating our own distinctive position in world cricket, which is consistent with who we are, where we've come from and what we're trying to achieve.
"Every event which is staged successfully adds to our credibility and that helps. Every time we stage an event we are judged, the ECB will assess the event and it's important we continue to be one of the leading venues in that regard. With the Ashes Tests there is greater demand than supply and I have to accept that as we're a relatively small venue in a relatively small part of the world.
"Our geographical position is helpful in terms of making sure English cricket is truly representative of the country and that we get a fair share of international cricket. Whether that's Ashes Tests or one-day games, time will tell."
Additional reporting by Alfie Joey and Damian O'Neil.