Matthew Mott frustrated after weather stumps Glamorgan again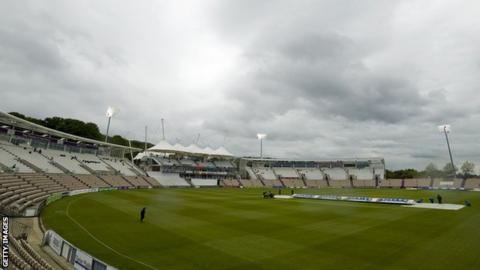 Glamorgan head of elite performance Matthew Mott was left frustrated after poor weather contributed to another draw in the County Championship.
The Welsh side built a first-innings lead of 129 runs away to Hampshire but rain saw the game eventually drawn.
Glamorgan have seen six of their 11 Division Two games end in stalemate this season, with just one win.
"Once again the [weather] forecasters got it right and we're left to miss another opportunity," Mott said.
"To have only one win to show for what we've tried to achieve this year in four-day cricket, it doesn't seem fair.
"We'll just keep plugging away and try and win as many games as we can to try and salvage something from the four-day campaign."
Despite the disappointment of seeing another good position go to waste in the County Championship, Mott was pleased with the way his players responded after their hurtful Twenty20 defeat to Gloucestershire last week.
Glamorgan had needed to beat their visitors in Cardiff to claim a quarter-final spot but lost by nine wickets to a Gloucester side bottom of the table.
"I think the guys showed a lot of character bouncing back and playing some good cricket this week," Mott added.