Derbyshire: Wayne Madsen praises academy talent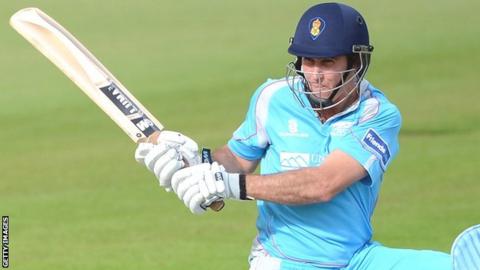 Derbyshire captain Wayne Madsen says their decision to stick with their young players is beginning to pay off after their first Division One County Championship win of the season.
Madsen's side wrapped up a nine-wicket win over Sussex and are now within six points of second-bottom Surrey and eights points of third-bottom Somerset.
Derbyshire must still play both teams.
"The younger guys have put their hands up and really performed well," Madsen told BBC Radio Derby.
Five academy players - Ben Slater, Alex Hughes, Tom Poynton, Peter Burgoyne and Matt Higginbottom - all starred in the comprehensive win away against Sussex.
"It has been a tough year but we have stuck to our guns and they have kept us motivated," Madsen added.
Both Surrey and Somerset are yet to finish their latest fixtures, but Madsen is confident about his team's survival prospects.
"It puts us in good stead for a push towards the end of the season," Madsen said.
"We needed to make a move in the Championship after the Twenty20. We needed to play some good cricket.
"It's fantastic to get a win. I am ecstatic for the boys; the effort we have put in over the three days has been fantastic."