Ashes 2013: Umpiring decisions leave a sour taste in third Test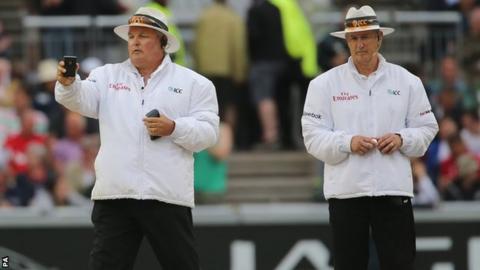 The umpires should not have taken the players off the field for bad light on day four of the third Ashes Test.
Here we all were, in a crucial Test between England and Australia, with a sell-out crowd and the floodlights on, and off they went.
It was the wrong thing to do because there will be a time - possibly even on Monday - when a team need 25 to win, with six wickets in hand, there is a full house and the umpires stop play for bad light.
Because umpires Tony Hill and Marais Erasmus set the benchmark on Sunday, the players will have to go off.
It was frustrating because the match was so nicely poised - Australia reaching 172-7 in their second innings for an overall lead of 331.
There are differences to playing with a red ball under floodlights rather than a white one, but you have to get on with it. There is no-one bowling in this match who is dangerous - it is not like playing against West Indies in the 1980s.
It is very, very disappointing and not the right way for the game to be played. I do not blame England captain Alastair Cook for not putting a slow bowler on as he wants to get off the field given the situation.
It is down to the umpires, and they had another poor day. There was also the slowing of the over rate by England, which the umpires should have chivvied along.
All they had to do was say to Cook, 'Come on, let's get this moving a bit', in a friendly way. Weak umpiring leads to these sorts of situations, in that players are naturally going to take advantage.
It was a very difficult situation for Australia captain Michael Clarke, in terms of timing his declaration. He had to bank on there being play on the final day - you can tuck that knowledge away that Monday is supposed to be a write-off but you cannot let it influence your decision-making too much.
In England's first innings, Stuart Broad gave a great demonstration of how well he can bat. I admonished him in the first Test when he should have walked, so it was great to see him do so on Sunday when he nicked Nathan Lyon without waiting for the umpire's decision.
We all want to see sportsmanship in cricket. Graeme Swann also walked after edging one behind and maybe they have all had a think about Trent Bridge.
It should also be remembered that Swann called a Sri Lankan batsman a cheat for not walking last year.
David Warner, who made 41 after being promoted to open in the second innings, played well and deserved a half-century, which makes me wonder if he will open in the next Test. It is his natural position, after all.
He has copped a lot of flak during this Test, although I think he enjoys it. He is obviously a tough nut, albeit quite an unpredictable one.
My Test Match Special interview with Manchester United legend Gary Neville was amazing. Neville played a very good standard of cricket before plumping for a career in football and his younger brother, Phil, was an even better batsman.
It was brilliant to hear a top-class footballer give cricket so much credit for moulding him into that tough professional he became as a footballer.
What with Neville on Sunday and Manchester City and England goalkeeper Joe Hart dropping in on Saturday, it is apparent that football, contrary to what many people believe, has some deep-thinking and intelligent people.