Ashes 2013: Darren Lehmann wants more from Australia batsmen
Last updated on .From the section Cricket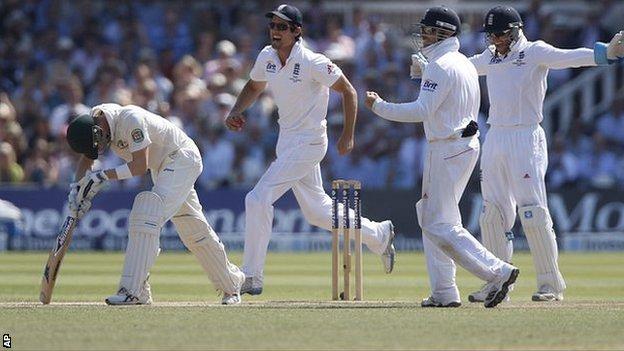 Australia coach Darren Lehmann says his batsmen have to make immediate improvements in the Ashes series.
"We've certainly got to bat better, 55 overs in the first innings is not acceptable so we've got to get better at batting full stop," Lehmann said.
"I felt sorry for the bowlers, they only got three and a half hours off."
The tourists have gone 10 Tests without a top three batsman making a century, the last time that occurred was a sequence against England between 1899 and 1902.
"One thing you don't see in Test cricket any more is draws," Lehmann added.
"Years ago it would be 500 versus 500, now it's a case of getting the game moving forward, everyone is doing that, but you still have to have the ability to bat eight to 10 hours as a batsman and we certainly aren't doing that as a team, let alone a batsman.
"The bowling's fine we've just got to get our batting right, but we're all going in the same direction so that's the pleasing thing and at this time we've got to stick together as best we can."
Next for Australia is a three-day tour match against Sussex at Hove starting on Friday, before the third Ashes Test at Old Trafford on 1 August.
Asked about his preparations Lehmann said: "It's probably more of a mental thing, making sure they're ready to go, refresh as best we can, have a good time down at Sussex make sure we play some decent cricket and bat a lot longer than 90 overs if that's possible, that's probably the key for us."
Lehmann emphatically ruled out any additions to the squad from outside the original 18-man group, such as veteran batsman Simon Katich, now at Lancashire, and recently eligible leg-spinner Fawad Ahmed, who took four wickets in each innings for Australia A against a Zimbabwe XI in the opening match of their tour of southern Africa.
The Australia coach confirmed reserve wicketkeeper Matthew Wade, who has scored two centuries and three fifties in his 12 Tests, will have a chance to impress in the warm-up match and could feature as a batsman only during the tour.
"The whole 18 has a chance to play, Wade will play in the tour match," he said.
"I'm not ruling anything out, that's what happens when you have two losses, you've got to keep every option open."
Former Australia seamer Glenn McGrath agreed that the current batsmen were not performing to the required level.
"The top order need to start scoring some hundreds. They have spent enough time there," McGrath told BBC Sport.
McGrath took 563 wickets in 124 Tests during an era where Australia dominated world cricket and bowed out with a 5-0 victory over England in 2006-07.
Since then, England have won the last two Ashes series and are now on course for three in a row.
Australia have lost all six Tests since key batsmen Mike Hussey retired in January, with Michael Clarke's century in Chennai in March their only three-figure score in that time.
"The fact that Mike Hussey was in the team through the Australian summer probably overshadowed the issues we have and provided a safety net," added McGrath.
"That safety net is no longer there so the players now have to stand up.
"They need to put a bit more of a higher price on their wicket and spend time at the crease. If you spend time out there you will score runs."
Only one team in the history of Test cricket - Australia's 1936-37 Ashes side - have ever come from 2-0 down to win a series 3-2, but McGrath has not given up hope.
"I'm always optimistic," he added. "I think there's resilience there. The players we have here are good enough. They just have to get out there and do the business."