Ashes 2013: Shane Warne to join ICC's Hall of Fame
Last updated on .From the section Cricket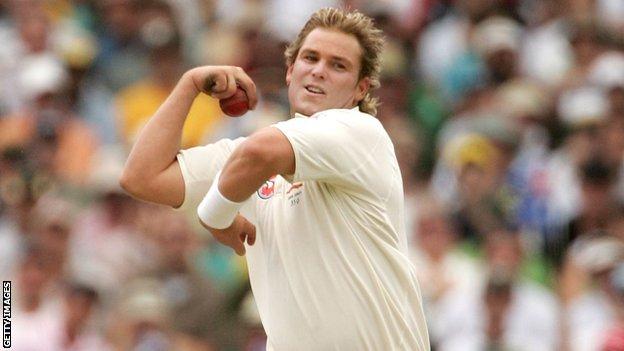 Shane Warne will be inducted into the International Cricket Council Hall of Fame during the second Ashes Test between England and Australia.
He will be formally inducted during the tea interval of the second day at Lord's on 19 July.
"I'm very honoured and proud," said the former leg spinner, 43.
"I'd like to thank the voting academy very much for even considering me. I'm looking forward to celebrating my induction with my friends and family in front of the crowd at Lord's during the second Ashes Test."
Warne ended his Test career with 708 wickets, at an average of 25.41, and 3,154 Test runs, the most any player in the game has made without scoring a hundred.
His final Test was at the Sydney Cricket Ground, the stadium where he made his Test debut against India in 1992, as Australia completed a 5-0 whitewash of England in the 2006-07 Ashes.
The Victorian also took 293 wickets in 194 one-day internationals at an average of 25.73, and was man-of-the match as Australia beat Pakistan in the 1999 World Cup final at Lord's.
He was sent home ahead of the 2003 World Cup after a drugs test during a one-day series in Australia returned a positive result for a banned diuretic.
The Australian Cricket Board Anti-Doping Committee subsequently found Warne guilty of breaching the Board's drug code and banned him for 12 months.
The other 2012-2013 inductees are the former West Indies captain Brian Lara, Warne's compatriot Glenn McGrath and England's Enid Bakewell, who became the third woman cricketer in the ICC Hall of Fame after Rachel Heyhoe-Flint and Belinda Clark.
Lara and Bakewell were inducted last year at the LG ICC Awards in Colombo in September, while McGrath received the accolade during the Sydney Test between Australia and Sri Lanka in January this year.
Warne becomes the 18th Australian member of the Hall of Fame, and the 72nd in total.
ICC Cricket Hall of Fame - initial inductees (55): Sydney Barnes, Bishan Bedi, Alec Bedser, Richie Benaud, Allan Border, Ian Botham, Geoffrey Boycott, Donald Bradman, Greg Chappell, Ian Chappell, Denis Compton, Colin Cowdrey, Kapil Dev, Sunil Gavaskar, Lance Gibbs, Graham Gooch, David Gower, WG Grace, Tom Graveney, Gordon Greenidge, Richard Hadlee, Walter Hammond, Neil Harvey, George Headley, Jack Hobbs, Michael Holding, Leonard Hutton, Rohan Kanhai, Imran Khan, Alan Knott, Jim Laker, Harold Larwood, Dennis Lillee, Ray Lindwall, Clive Lloyd, Hanif Mohammad, Rodney Marsh, Malcolm Marshall, Peter May, Javed Miandad, Keith Miller, Bill O'Reilly, Graeme Pollock, Wilfred Rhodes, Barry Richards, Vivian Richards, Andy Roberts, Garfield Sobers, Brian Statham, Fred Trueman, Derek Underwood, Clyde Walcott, Everton Weekes, Frank Woolley, Frank Worrell.
2009: Herbert Sutcliffe, Steve Waugh, Wasim Akram, Victor Trumper, Clarrie Grimmett.
2010: Rachael Heyhoe Flint, Ken Barrington, Courtney Walsh, Joel Garner.
2011: Belinda Clark, Frederick Spofforth, Curtly Ambrose, Alan Davidson.
2012: Enid Bakewell, Brian Lara, Glenn McGrath, Shane Warne.