Danish Kaneria fails to overturn his life ban from cricket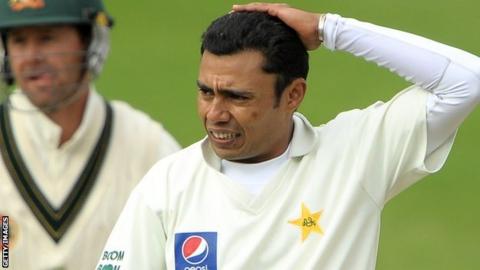 Pakistan leg-spinner Danish Kaneria has failed in his appeal against a life ban imposed by the ECB for corruption.
Kaneria, 32, was banned by a disciplinary panel in June 2012 for spot-fixing while playing for Essex.
He was found guilty of "cajoling and pressurising" team-mate Mervyn Westfield into accepting cash to concede a number of runs in a Pro40 match in 2009.
Westfield, 25, was imprisoned for his part in the affair.
He was also banned from professional cricket for five years, but the ECB appeal panel ruling stated that he can return to club cricket next April - three years before his ban is complete.
ECB chairman Giles Clarke, who worked on the ICC's Pakistan Task Force from 2002 to 2010, said: "The appeal panel's findings in this case clearly confirm the disciplinary panel's finding that Mr Kaneria acted as a recruiter of potential 'spot-fixers' and used his seniority and international experience to target and corrupt a young and vulnerable player.
"We note, with regret, that Mr Kaneria has neither made any admission of guilt nor expressed any remorse for his corrupt actions, despite the weight of evidence against him.
"It is high time that Mr Kaneria came clean about his involvement in these corrupt activities and stopped misleading the Pakistan cricket fans and wider public."
ECB chief executive David Collier also commented on the panel's ruling on Westfield, saying: "The ECB notes the panel's decision on Mr Westfield's appeal against the length of his ban.
"Without Mr Westfield's stand, the corrupt actions of Mr Kaneria might not have been exposed.
"The ECB will support Mr Westfield's efforts to rehabilitate himself and as part of this process, hopes that he can raise awareness of the dangers of corruption in cricket."
Essex chief executive Derek Bowden said: "We will consider the appeal panel's decision carefully and continue to work closely with the ECB's anti-corruption team and the PCA (Professional Cricketers' Association) to ensure that all Essex players continue to be well educated about the dangers of corruption and immediately report any corrupt or other suspicious activity."
Kaneria has repeatedly denied all involvement in the corruption case, but his appeal against two ECB charges has now failed twice on appeal.
A cricket discipline commission appeals panel dismissed the case in April before today's decision, when Kaneria had hoped a reduction in his ban might at least have been achieved.