Charlotte Edwards wants global push towards professionalism
Last updated on .From the section Cricket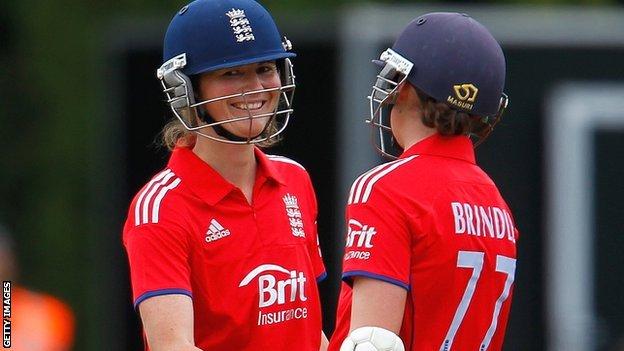 England captain Charlotte Edwards has said the aim of professionalism in the game has to be a global effort.
Women's cricket's leading nations have differing contracts, many of which make players semi-professional.
"It's moving in the right direction but professionalism needs to be across the board," 33-year-old Edwards told BBC Radio Cambridgeshire.
"Other countries need to buy into it as well, not just England. I think it's an aim for the next five to 10 years."
England's players combine international cricket with other jobs, although the majority of the squad have roles as coaches and ambassadors for the sport, particularly with the Chance to Shine foundation, which is designed to increase grassroots participation.
All members of the squad have access to the England Cricket Board's high-end National Cricket Performance Centre at Loughborough University.
In comparison, New Zealand has four women signed to semi-professional contracts, which includes a responsibility for promoting grassroots.
Australia signed 14 players to contracts earlier this year, with some women able to earn up to £47,500 ($80,000 Aus) a year and last year Pakistan awarded 17 contracts, worth up to £393 ($600 US) a month.
"Professionalism will be seen as the next step. How soon that comes about I don't know, I think we've made huge strides," said Huntingdon-born Edwards, who led England to victory in the 2009 World Cup and World Twenty20.
"Many of the girls are semi-professional, in terms of what they're doing outside of cricket.
"The game is unrecognisable from the game I started playing. A bit of that is down to the success the England team has had.
"That's something that makes me and the team very proud. It's great to see women's cricket in such a healthy state."
Batsman Edwards, the first woman to pass 5,000 one-day international runs, but showed her prowess earlier this week by
And she says the prospect of retirement is a long way off.
"I've still got a huge hunger for the game, which I think is really important, and a real hunger to get better as a player," said the Kent batter.
"Who knows how long I've got left? But hopefully a few more years at least.
"Having spoken to a few players, the time will generally be around you're own form and whether you can contribute to a team."