Alex Wakely wants Graeme White at Northants permanently
Last updated on .From the section Cricket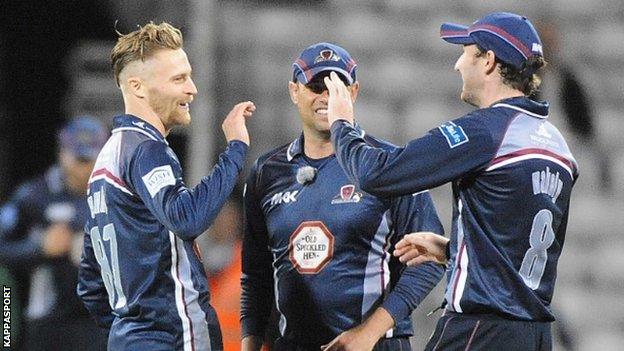 Northants' one-day captain Alex Wakely says he hopes they can keep Nottinghamshire spinner Graeme White.
Wakely told BBC Radio Northampton: "Graeme was sensational. Who thought a spinner would be the key with a wet ball, and with only three overs?
"It's a joy to have him back from Notts and let's try to get him here full time if we can."
White, who left Northants in 2009, had only made five appearances in the YB40 for Notts this season, prior to his move back to Wantage Road.
He will remain at the club until 11 July under the current deal.
"I got told I wouldn't start the Twenty20 at Notts, which was obviously disappointing," said White.
"But it was fantastic coming back, playing my first Twenty20 match at Wantage Road for a long time.
"A few hairs on the back of my neck went up, which is only normal, seeing as I played here when I was young. The crowd were brilliant and the lads played fantastically well.
"We're going to set ourselves high standards. The team is pretty strong in all areas and we should be competing to finish in the top two or three and try to get through to a quarter-final, and maybe a home one."
White says he hopes his performances in the T20 catch the eye for Notts, who also won their first match in the competition.
"They've got some good players but I'm knocking on the door, and if I get the opportunity to play, I'm there to do it," he declared.
Northants matched their number of wins in the entirety of last season's T20 campaign by beating the Gladiators, and next host Warwickshire Bears.
"If we keep playing like that over a full 20 overs, I think we'll be a force to be reckoned with," said Wakely.
"We sat down at the end of last season and we were a little bit embarrassed. We were fed up of losing. We did a lot of hard work over the winter and it's paying off.
"It's nice to know that players know exactly what they're doing. Mohammad Azharullah is our death bowler, David Willey starts the game and Andrew Hall can do either, so we're in a really strong position."