Pakistan: Salman Butt admits to spot-fixing for first time
Last updated on .From the section Cricket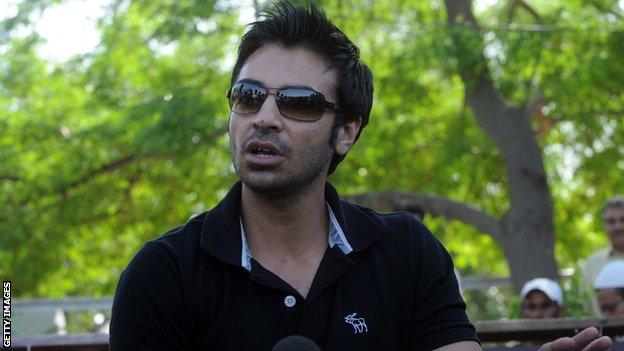 Banned ex-Pakistan captain Salman Butt has admitted his involvement in a spot-fixing scandal for the first time.
"I want to apologise to my countrymen and cricket followers all over the world for having done wrong," he said.
"I am sorry for having hurt the sentiments of the Pakistani people and cricket lovers. I am ready to undergo any rehabilitation programme."
Batsman Butt was jailed for 30 months after being found guilty of performing a key role in the scheme in which illegal payments were made to deliberately bowl no-balls during the Lord's Test against England in August 2010.
He is banned for 10 years by the ICC, with five years of that ban suspended.
In April, both Butt and Asif lost their appeals at the Court of Arbitration for Sport (Cas) to have their bans from cricket overturned.
After that decision, International Cricket Council chief Dave Richardson urged the pair to "start the process of rebuilding their lives and reputations by apologising for their actions".
Speaking at a news conference in Lahore, Butt added he had asked the Pakistan Cricket Board's chief Najam Sethi to lobby the ICC - which is currently sitting for its annual conference in London - to reduce the severity of his ban.
"I request the interim chairman to request the ICC to reduce my and Asif's bans," he said.
"I have two years' ban left so if the ICC allows me to play domestic cricket then I will be ready for international matches once my ban ends.
"I have enough cricket left in me and when my ban ends I am ready to play for the country again."
During his international career, Butt scored 1889 Test runs in 33 matches at an average of 30.46.