Worcestershire: We have great spirit, says Moeen Ali
Last updated on .From the section Cricket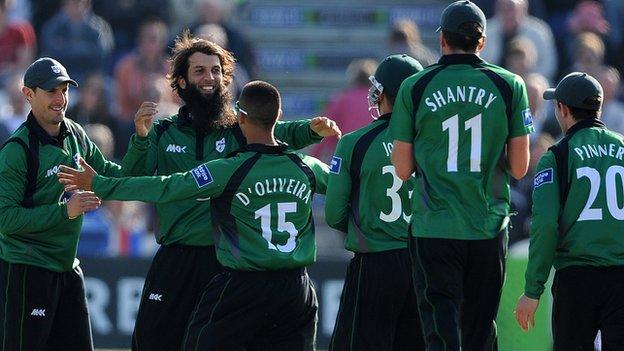 Worcestershire batsman Moeen Ali is confident that they have the spirit in the camp to compete in the FL t20.
Their success in finishing third in the Midlands/West/Wales Group to reach the last eight in 2012 was only the third time in 10 years of Twenty20 cricket that they have made the quarter-finals.
And Moeen knows that they are more than capable of improving on that record.
"The key is good team spirit. But we've always had that at Worcester ever since I joined," he told BBC Sport.
"I've never been in a dressing room where people are so nice.
"Last year we did well to get to the quarters. We had good plans and executed them well.
"And, if we do the same this time round and keep to our plans, we stand a chance. I honestly believe it's all coming together.
"Twenty20 is not just about having the best players. It's all about the whole team contributing."
Moeen was captain when Worcestershire came through a testing Twenty20 warm-up at Shifnal a fortnight ago against their neighbours Shropshire, who were in great form having so far proved unbeatable in Minor Counties cricket this summer.
He suffered a rare failure on the night but, overall, having hit 908 County Championship runs so far this summer at 82.54 (capped by a career-best 250 against Glamorgan last week), Moeen is happy playing any form of the game right now.
"I've enjoyed the Championship," he said. "The one thing I've wanted over the last two years was consistency, to be a player the team can rely on.
"Batting at three is a big responsibility now that we haven't got Vikram Solanki. And I think I've found a method and a mindset that will keep me doing it all the time."
Worcestershire start their FL t20 campaign at New Road on Friday evening with a home game against Glamorgan.