Cornwall captain Tom Sharp retires from Minor Counties cricket
By Andrew Birkett
BBC Sport
Last updated on .From the section Cricket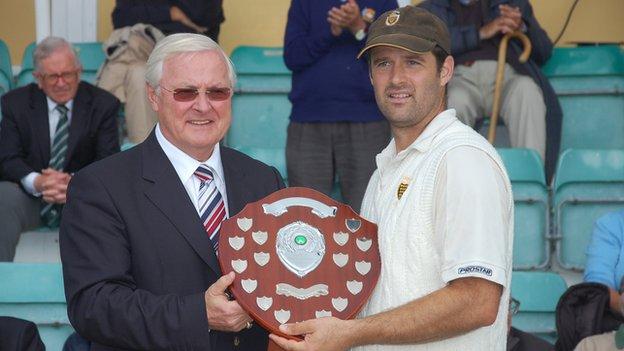 Cornwall captain Tom Sharp has announced his retirement from Minor Counties cricket with immediate effect.
The all-rounder took over the captaincy in 2002 and
"I know I'll miss it but I want to spend more time with my family," Sharp told BBC South West Sport.
"I'm so proud of what we've achieved as a team and winning the title last year definitely makes it an easier decision to step down now."
The 35-year-old from Truro amassed over 4,000 championship runs and took more than 200 wickets with his off-spin.
During his career, he captained the Minor Counties Select XI and also played for the Unicorns.
He admits he found it hard to tell manager Godfrey Furse, who has been in charge of team affairs throughout his reign as captain.
"It was so difficult," he said. "It was strange, I was really nervous when I went to tell Fursey.
"We've been a great team over the years and I'm really proud of what we've done together. We're very different from each other but it's worked really well as a partnership."
While Furse understands why his skipper has made the decision to retire, he hasn't given up hope of persuading him to change his mind.
"Tom has been a massive part of this team for many years," Furse told BBC South West Sport.
"I appreciate the reasons behind him stepping down, I just wish he'd consider making it a sabbatical instead.
"I wouldn't want him to make a rash decision, certainly the door's not closed if he did want to play again."
opening batsman Matt Robins is expected to take over for the rest of the season.