Boyd Rankin's father says Cricket Ireland offer never came
Last updated on .From the section Cricket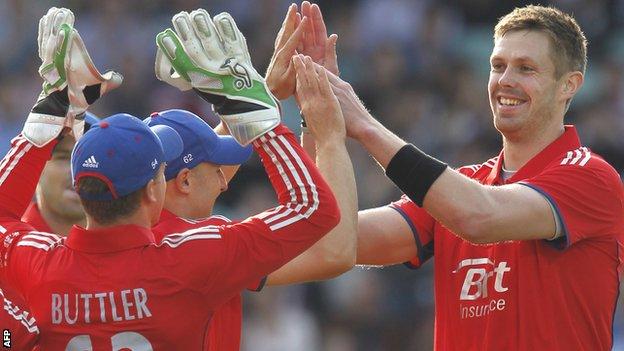 Boyd Rankin's father says Cricket Ireland never made a formal financial offer to keep the Bready paceman, who made his England debut in the T20 defeat by New Zealand at the Oval.
"Ireland discussed putting a financial package in place to keep him out of the grips of England," said Bob Rankin.
"That was as far as it went - there was talk but nothing came forward."
Cricket Ireland said it believes the 28-year-old's decision was "primarily a cricketing one rather than financial".
The Warwickshire player, who took the wicket of James Franklin on Tuesday, quit the Ireland team last year in the hope of earning a Test call-up for England.
"It is a sore point up here," added Bob Rankin. "Ireland were aware for the previous four or five years that England had been sniffing around Boyd - picking him in A and underage teams.
"They (Cricket Ireland) approached us as a family and mentioned this. We were very proud that Boyd played for Ireland and we are very proud Irish people.
"But Boyd is a professional cricketer and as a fast bowler he has a very short career.
"So you have to try and take as much money out of the game while you can, although it was very difficult decision to walk away from Cricket Ireland.
"The money offered from the English and Wales Cricket Board was totally different class from what the Irish cricket people can offer."
Cricket Ireland has argued that Rankin turned down an "attractive" offer to remain in the Irish set-up.
"Cricket Ireland certainly did offer Boyd an attractive financial package to continue playing for Ireland until selected by England," it added.
"The Ireland coach Phil Simmons and our performance director Richard Holdsworth met with Boyd last summer where it was offered to him but he declined, preferring to play for Warwickshire with the ambition of gaining England selection, and managing his cricketing workload.
"Cricket Ireland do not have the resources to match the ECB in terms of a financial package.
"Ireland are not currently in a position to offer Test cricket to Boyd - hopefully that will change if we attain Test status by 2020 and become a full member."