Reece Topley no longer the boy KO'd by Pietersen
By Chris Osborne
BBC Sport
Last updated on .From the section Cricket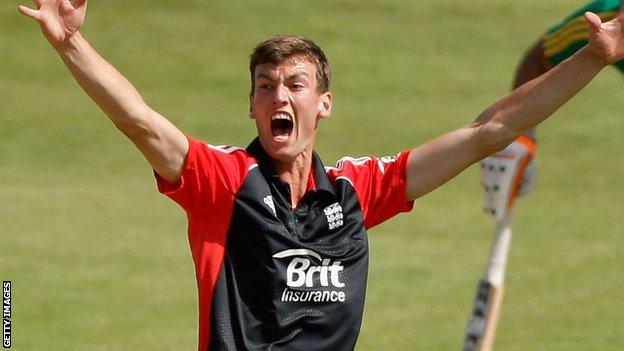 Essex bowler Reece Topley could well have gone down in the cricket almanacs as the boy who was knocked out by Kevin Pietersen.
"One of the headlines was 'Pietersen knocks out 15-year-old boy'," said Topley, now 19, recalling the day when England batsman Pietersen accidentally drove a ball at the head of the young seamer.
"Everyone thinks he's just going around town and given me a left hook."
The reality is Topley, then a schoolboy, was helping the England team prepare for the 2009 World Twenty20 by bowling at the national team's batsmen during a nets session.
"Pietersen came in and said he wanted some yorkers. I bowled a pretty good spell at him," Topley told BBC Sport.
"It came to the last ball, he ran down the wicket, met it on the full, hit it back at me and I didn't even see it. I don't remember anything else but that.
"It took nine stitches in my ear," he adds, craning his head around to show off his war wounds. "My ear was basically hanging off."
An apologetic Pietersen left a signed bat for Topley, which he collected after he was discharged from hospital.
Pietersen's rise to becoming one of England's most explosive batting talents continued, coupled with his ongoing habit of landing himself in controversy.
But for Ipswich-born Topley, a much quieter ascent was taking place, catching the eye in the Essex youth team and being drafted into the England development system.
The son of former Essex seamer Don Topley, he followed in dad's footsteps by playing for the same club, making his first-class debut against Cambridge University in April 2011.
After taking 14 wickets in his first three County Championship matches, head coach Paul Grayson eased the bowler into first-team cricket, with 42 wickets taken across his first two seasons.
The left-armer's ability to exact movement from the ball, particularly with reverse swing, made him a standout player for the Chelmsford side in last year's Twenty20, in which he finished with an average of 14.47 and 7.68 economy.
And while this year's haul of 25 wickets and a 33.40 average in the four-day game would seem respectable, Topley has been left underwhelmed.
"If you want to make your way to the top you can't be satisfied with anything, you have to be looking to improve," he said.
"I probably could be a little tighter - go for a few less runs. It puts pressure on the batsman and somebody at the other end could take a few more.
"I'm always looking for areas to improve. The season's gone well, but I'll be able to tell you exactly how well after the T20s."
England took note, taking him to Australia earlier this year as the youngest member of the Lions development squad, and there is a belief that only time stands between him and his first senior international appearance.
"If you look after the short-term, everything else looks after itself. You don't want to get too far ahead of yourself and say 'I want to play for England'," he said.
"I'm in the ECB system, I was on numerous programmes through my childhood. If I keep doing the right things often enough, hopefully in the future I will get an opportunity.
"Everyone wants to play for England if you're playing first-class cricket. It's an ambition of mine."
The fireworks of the 2013 Friends Life t20 arrive again this week, with Essex opening their campaign at home to champions Hampshire on Friday.
It is an opportunity for Topley to help Essex, whose form this year has been and up and down, stake a claim for a first trophy in five years.
"It's my favourite format. I'm keen to repeat my performances of last year because I enjoyed it," he said.
"Hopefully we can get to the finals day this year - I don't think it's beyond us."
Finals day on 17 August could offer Topley the chance to come face to face with Pietersen for the first time since their bruising encounter four years ago, should Essex and Surrey both make it that far.
"I haven't actually met him since, which is quite funny," he said.
"It will be quite interesting to face him again."