Ashes 2013: BBC Sport's all-time Ashes XI, courtesy of TMS
By Jimmy Smallwood
BBC Sport
Last updated on .From the section Cricket157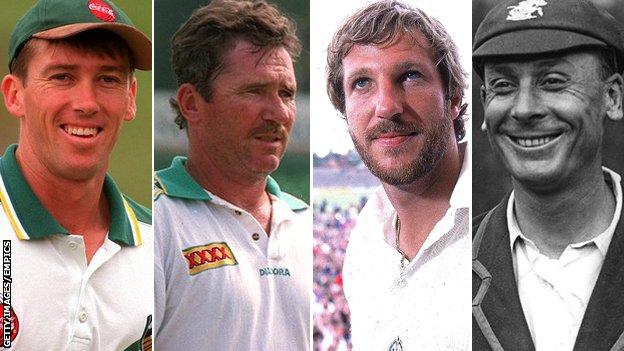 Ever fancied yourself as chairman of selectors?
The BBC Test Match Special team - Vic Marks (VM), Ed Smith (ES), Jim Maxwell (JM), Phil Tufnell (PT) and Jonathan Agnew (JA) - have picked their all-time Ashes XI.
A blinding batsman, a searing paceman, a wily spinner and a genuine all-rounder. They're all included, for a first Test at Lord's then a return fixture at the MCG in Melbourne.
Who has made the grade and who, justly or unjustly, has been left off the tour?
The 11 men are listed below, but do you agree? Pour the port, pass the cheese and biscuits and let us know your greatest ever Ashes line-up in the comments section below.
Jack Hobbs (England)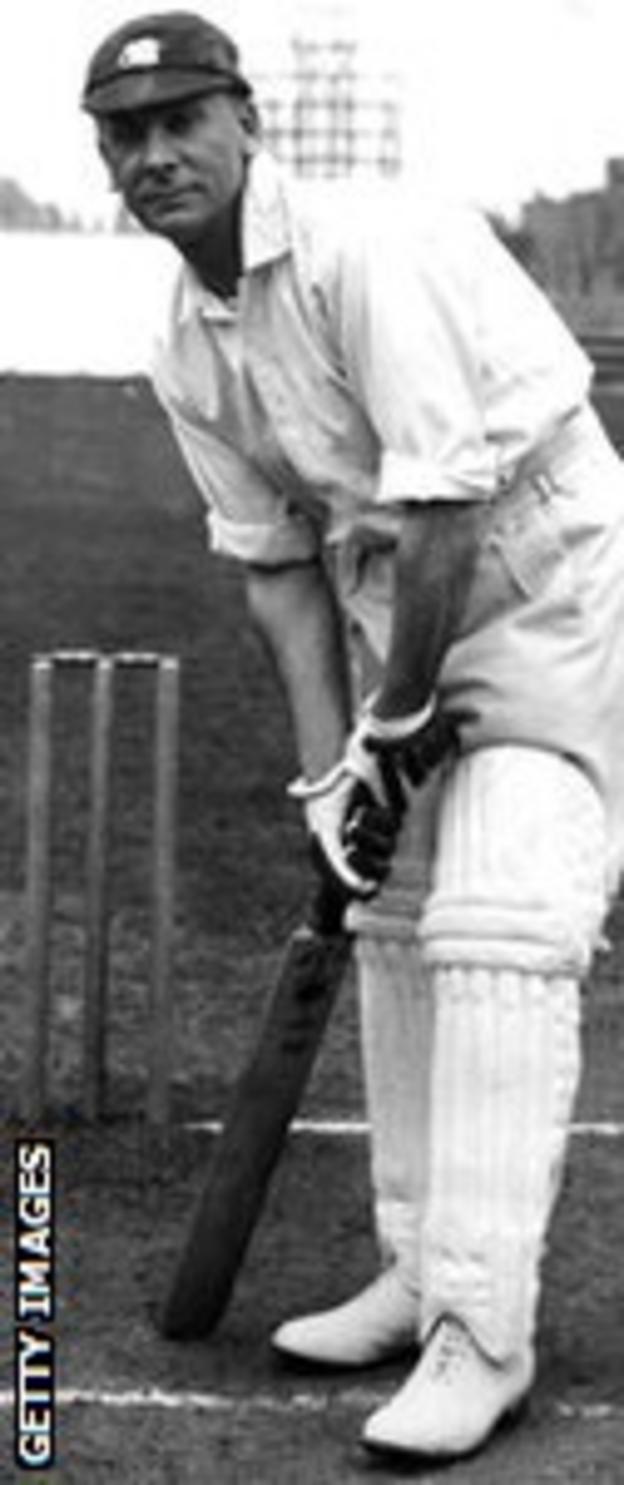 Ashes statistics - Matches: 41. Runs: 3,636. Average: 54.26. Centuries: 12. Highest Ashes score: 187
Hobbs was England's premier batsman for nearly 30 years following his Test debut in 1908.
He plundered more runs than any other Englishman in Ashes matches and is the most successful foreign batsman at both Melbourne and Adelaide.
Three of his eight tons at the grounds came during his 1911-12 golden tour.
The knocks, including his highest Test score of 187, came in successive matches, a feat he emulated in 1924-25.
He was a master of any delivery on every kind of wicket and came to the fore when times were toughest, relishing the challenge of a testing track.
In his own words: "If I had to reply again to a question put to me well nigh 60 years ago - 'What would you like to be?' - the answer would still be the same: a cricketer. It's a grand life."
JM: "Jack Hobbs was part of the most dominant opening pair, alongside Herbert Sutcliffe, in Ashes history."
Len Hutton (England)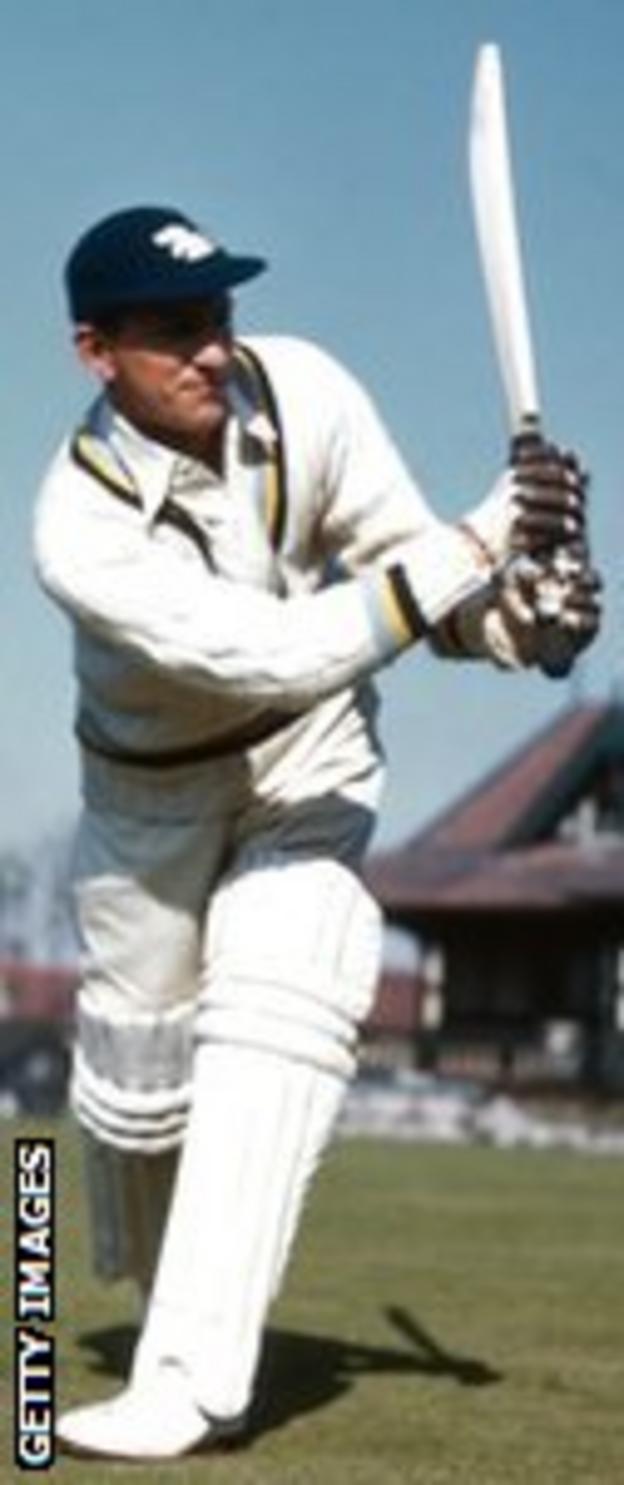 Ashes statistics - Matches: 27. Runs: 2,428. Average: 56.46. Centuries: Five. Highest Ashes score: 364
In the post-war era there was no more technically gifted English batsman than Len Hutton.
In 1938 the Yorkshireman set a record in only his sixth Test appearance with the highest individual innings score in a Test, making 364 against Australia.
That innings epitomised his peerless characteristics of concentration and application - he batted for almost two-and-a-half days as record after record tumbled.
He averaging a remarkable 88.83 in the 1950-51 Ashes series down under, 50 more per innings than the next Englishman, and made 156 at Adelaide.
Then the crowning glory of his career: retention of the urn in 1954-55 to seal his cricketing legacy as an England captain who lost only four of his 23 Tests leading his country.
In his own words: "I have some wonderful memories and those memories of the kindness of the cricketing public of England will always be with me."
ES: "It's quite an easy decision for me, really."
Don Bradman (Australia, captain)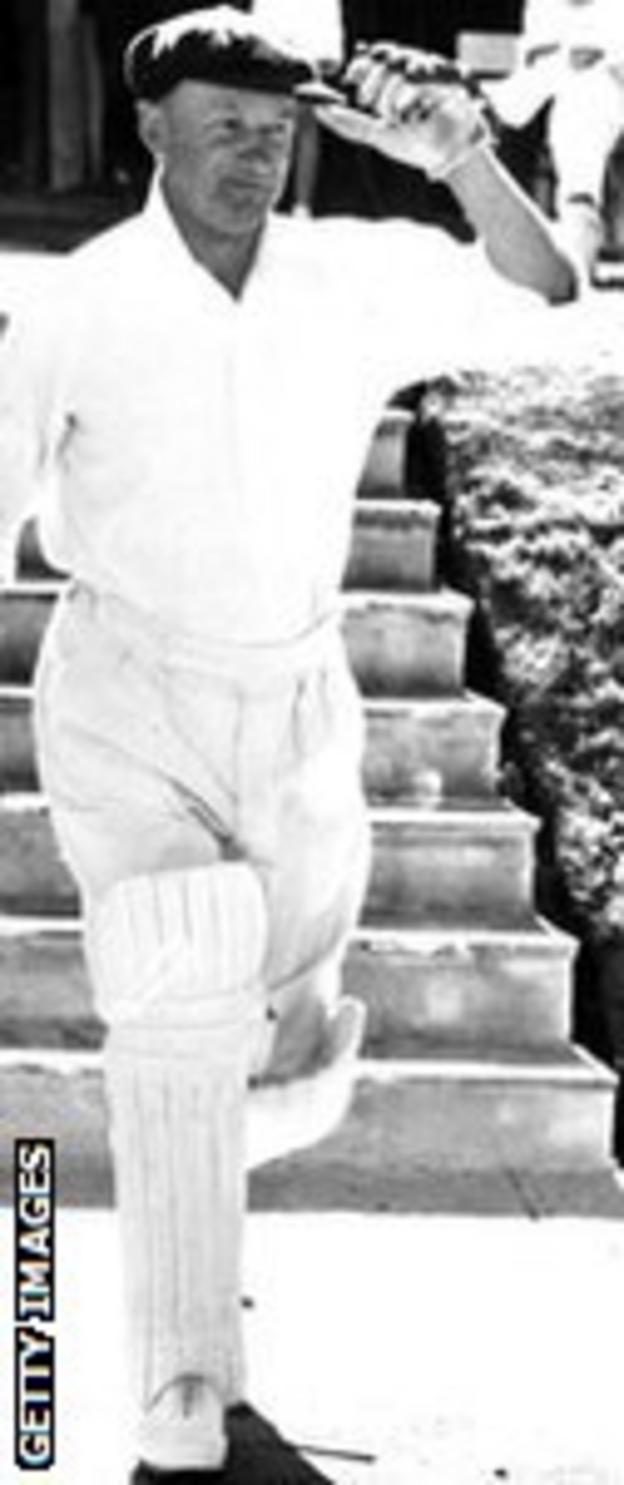 Ashes statistics - Matches: 37. Runs: 5,028. Average: 89.78. Centuries: 19. Highest Ashes score: 334
Bradman stands a man apart in the world of cricket and is the first name on any all-time team sheet.
Talk in sport often gravitates towards lengthy discussions about the best, but in cricket the focus is on second.
Bradman was the most prodigious run-scorer ever and, although his average against England was lower than his legendary life-time Test mark of 99.94, it still exceeds all other batsmen.
He was dropped after his debut against England in Brisbane in 1928-29, but following a first century on his return he never looked back and records tumbled wherever he went.
As captain, he never lost a series against England, culminating with the 1948 "Invincibles", who finished their tour - Bradman's last - unbeaten.
In his own words: "When you play Test cricket, you don't give the Englishmen an inch. Play it tough, all the way. Grind them into the dust."
JM: "He's captain, and there are no vice-captains. None are required."
JA: "It's obvious - the great Don is at number three."
Wally Hammond (England)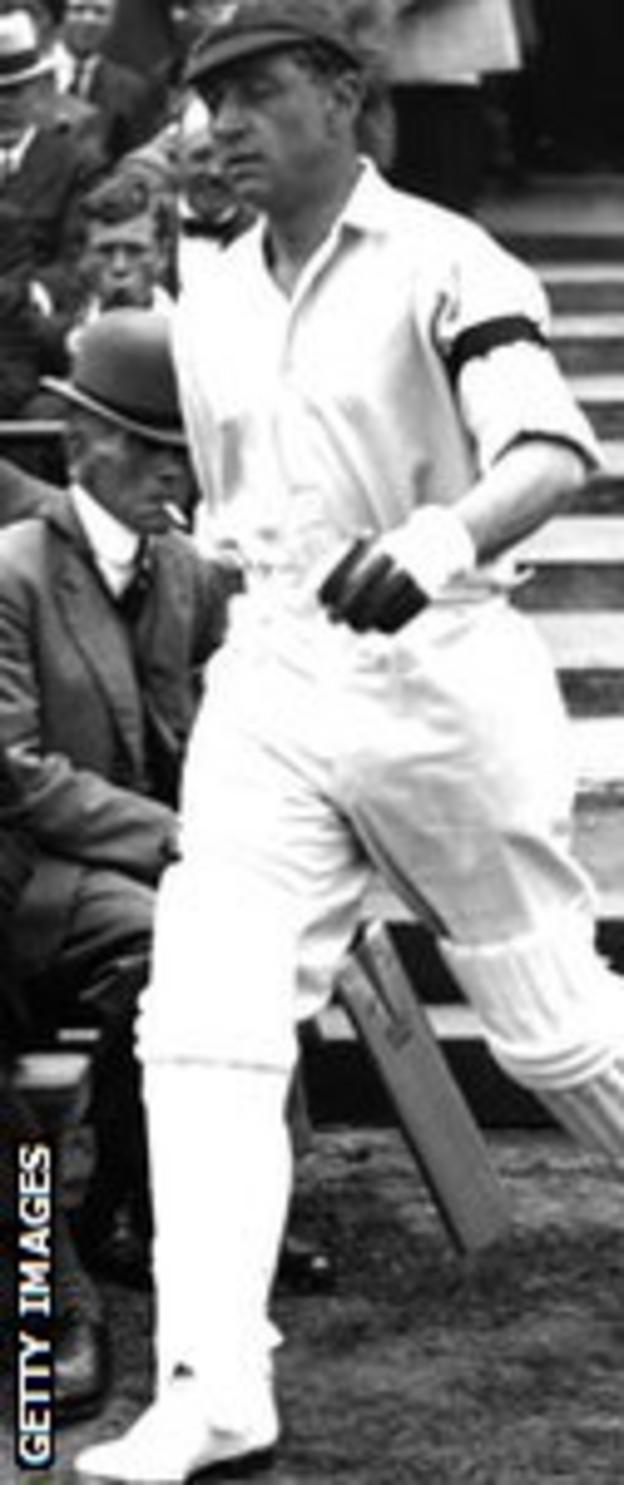 Ashes statistics - Matches: 33. Runs: 2,852. Average: 51.85. Centuries: Nine. Highest Ashes score: 251
Strong-willed and strong-limbed, Hammond was so good that comparisons were frequently made with his Gloucestershire predecessor WG Grace.
Wisden, known as the "Bible of Cricket", talks about his physical prowess at the crease - "strongly-built, square-shouldered, deep-chested, with impressively powerful forearms" - and says he was so adept a sportsman that in the 21st century he would have become a football star.
But it was wielding the willow where Hammond impressed himself on the minds of the cricketing world, especially Australian opponents.
In the 1928-29 Ashes he scored almost exclusively within the 'V' between extra cover and mid-wicket, but could hook and pull with the best. He hit 905 runs in that 4-1 series win, still a record for an Englishman.
Hammond was also a useful quick bowler, with 732 first-class wickets - an added dimension that seals his inclusion in this side.
His rivalry with The Don was infamous and very real, and, but for the Australian's enviable record, Hammond would still top many pages in the record books today.
In his own words: "Yeees!" (after making 336 v New Zealand and thereby beating Don Bradman's record).
ES: "I can't leave him out. But four and five are incredibly difficult to select - there are so many deserving candidates."
Allan Border (Australia)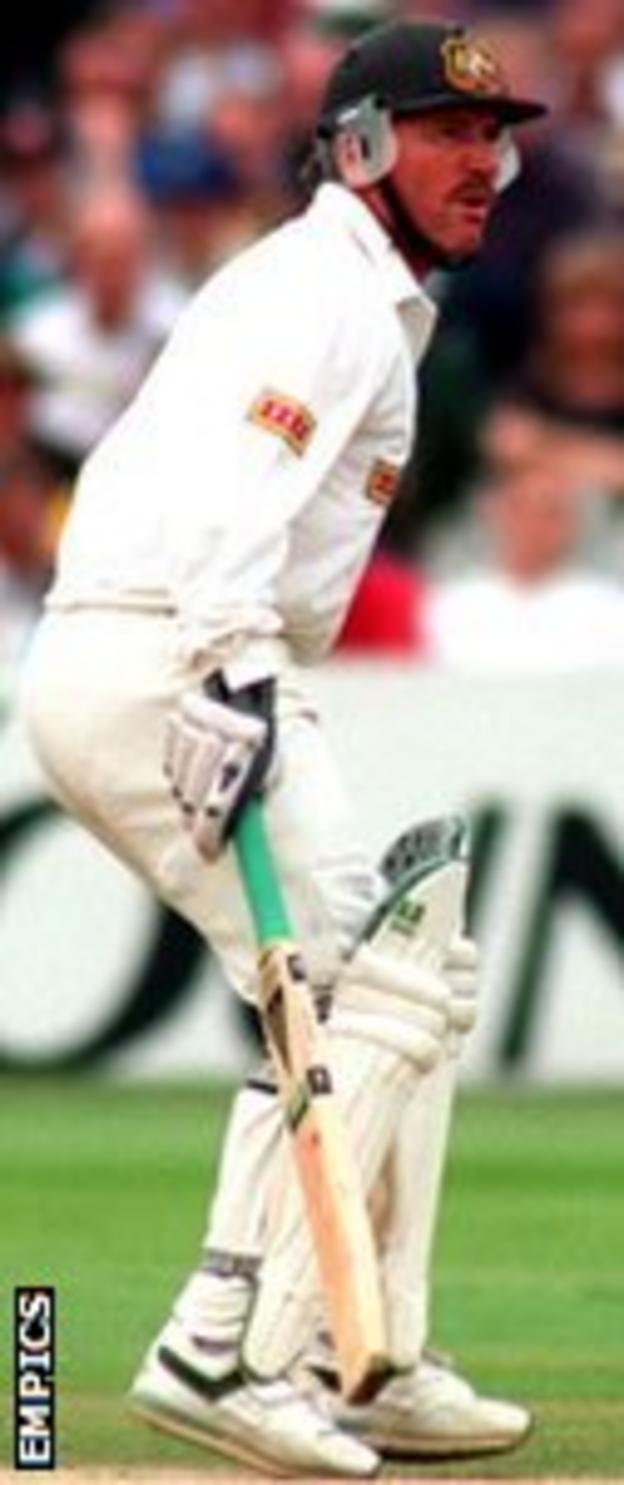 Ashes statistics - Matches: 47. Runs: 3,548. Average: 56.31. Centuries: Eight. Highest Ashes score: 200*
The epitome of the Aussie battler, Border made his debut in 1978.
By his retirement 16 years later he had set new marks for Test appearance, captaincy and scoring records.
By 1981 he was a fixture in the Test team when he topped the batting averages on tour in England, and four years later he returned as captain.
Despite defeat in 1985, he enjoyed his best return with 597 runs.
A further loss followed in 1986-87, when his side suffered the ignominy of becoming the first to follow-on at home to England. But that low point proved the catalyst for the period of dominance that Border ushered in.
His team won the final Test and did not lose another Ashes encounter for more than six years - a run that was broken only in Border's last Test in England.
In his own words: "No you can't, what do you think this is - a tea party?" (when an England batsman asked him if he could have some water)
JM: "He was a very gutsy, though not always dominant, player. But he was a consistent, efficient run scorer, averaging over 50 in Ashes cricket. Plus we need a left-hander, so it's simple."
PT: "Crikey, he was a good player. He was just fantastic - whenever he came into bat he just epitomised the Australian fighting spirit."
Ian Botham (England)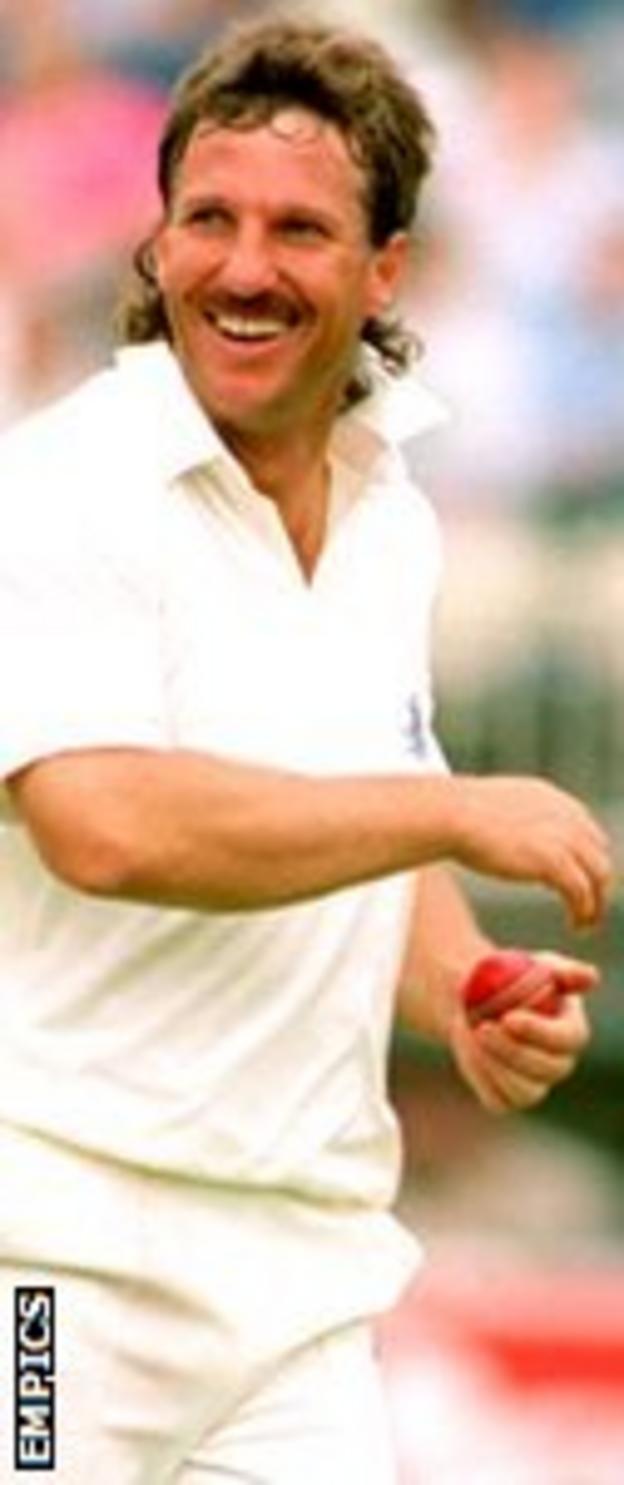 Ashes statistics - Matches: 36. Runs: 1,673. Average: 29.35. Centuries: Four. Highest Ashes score: 149*. Best Ashes figures: 6-78
If not the best all-rounder, "Beefy" is certainly the greatest match-winner - and nothing spurred him on more than a Test against the old enemy.
He proved a thorn in the sides of successive Australian skippers, dismissing both Kim Hughes and Allan Border a dozen times.
And there was also Botham's batting. Two of his four Ashes centuries came in 1981, when he was at his peak.
Having resigned from the England captaincy after bagging a pair at Lord's, Botham turned the tide of the Headingley Test and, in turn, the series.
He was a captain's dream with bat and ball as well as being a towering presence in the slips, taking 57 of 120 Test catches against Australia.
In his own words: "The Australian philosophy of 'work hard, play hard' has always appealed to me."
JM: "Definitely Beefy. He could turn a game."
JA: "I don't want to see Ian in the lift later and tell him, sorry, but we couldn't get him in the team. So I've got Beefy in."
Adam Gilchrist (Australia, wk)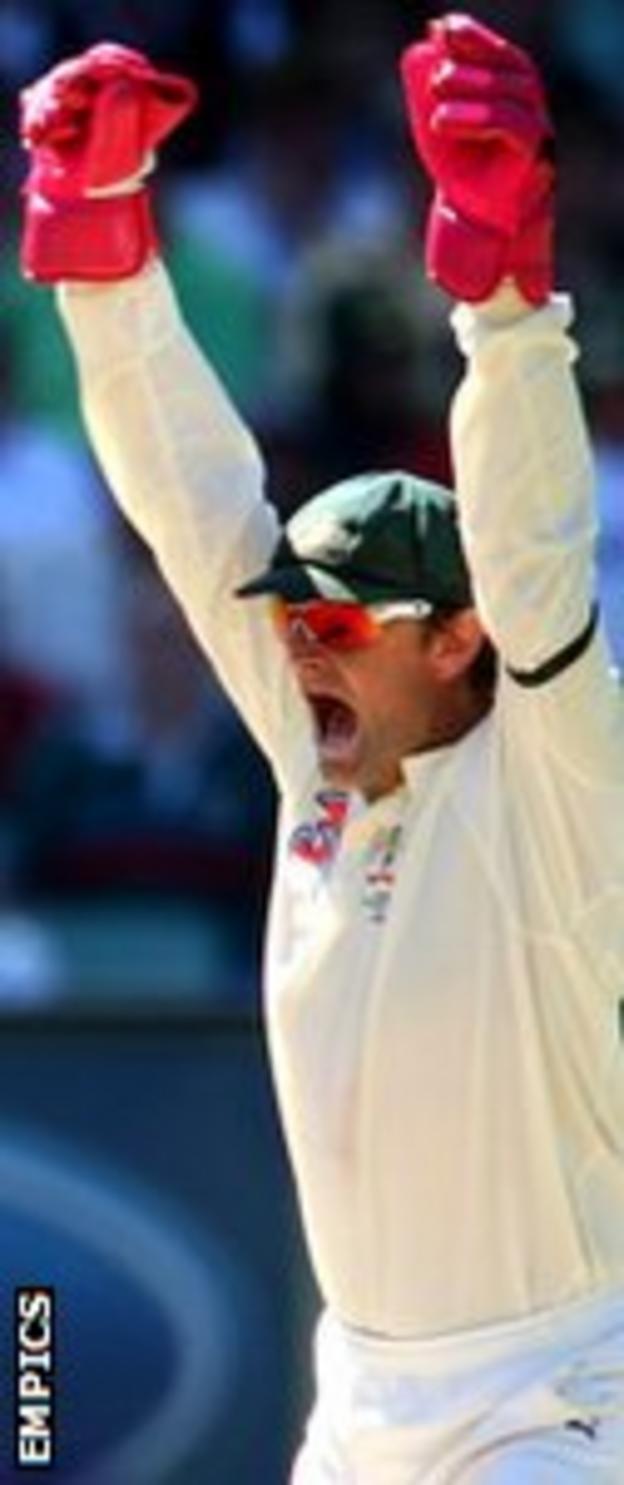 Ashes statistics - Matches: 20. Catches: 89. Stumpings: Seven. Runs: 1,083. Average: 38.68. Centuries: Three. Highest Ashes score: 152
With a career that straddled two centuries, Gilchrist was a cricketing contradiction, a revolutionary contemporary harking back to a bygone era.
His swashbuckling batting style, reminiscent of amateur freedom and naivety, was coupled with a refreshing honesty in the modern game - he famously walked having not been given out in the 2003 World Cup semi-final.
But he was a 21st century sports star in so many way, so destructive with the bat that he redefined the role of wicketkeeper batsman, effectively rendering specialist glovesmen obsolete in the modern era.
In his first Ashes series in 2001, "Gilly" strode in at seven and belted 340 runs at a batting average of 68.00, as well as nabbing 26 dismissals.
He cared not for his average, but for accelerating the run rate and forcing home Australia's advantage.
In 2006 he passed 5,000 Test runs, and later that same year hit an incredible 57-ball century in the third Ashes Test in Perth.
With 416 dismissals behind the stumps, Gilchrist also tops the list of Aussie keepers ahead of Ian Healy and Rod Marsh. A true revolutionary, and an all-time Ashes great.
In his own words: "The beauty of [Ashes] contests is you can never be sure who's going to win."
ES: "Gilchrist plays, though honourable mentions to Alan Knott and Rod Marsh who were titans of Ashes cricket, but Gilchrist has to play."
VM: "I'd choose Gilchrist because I'm a modern man and I'd like a keeper who can smack it over the ropes."
Shane Warne (Australia)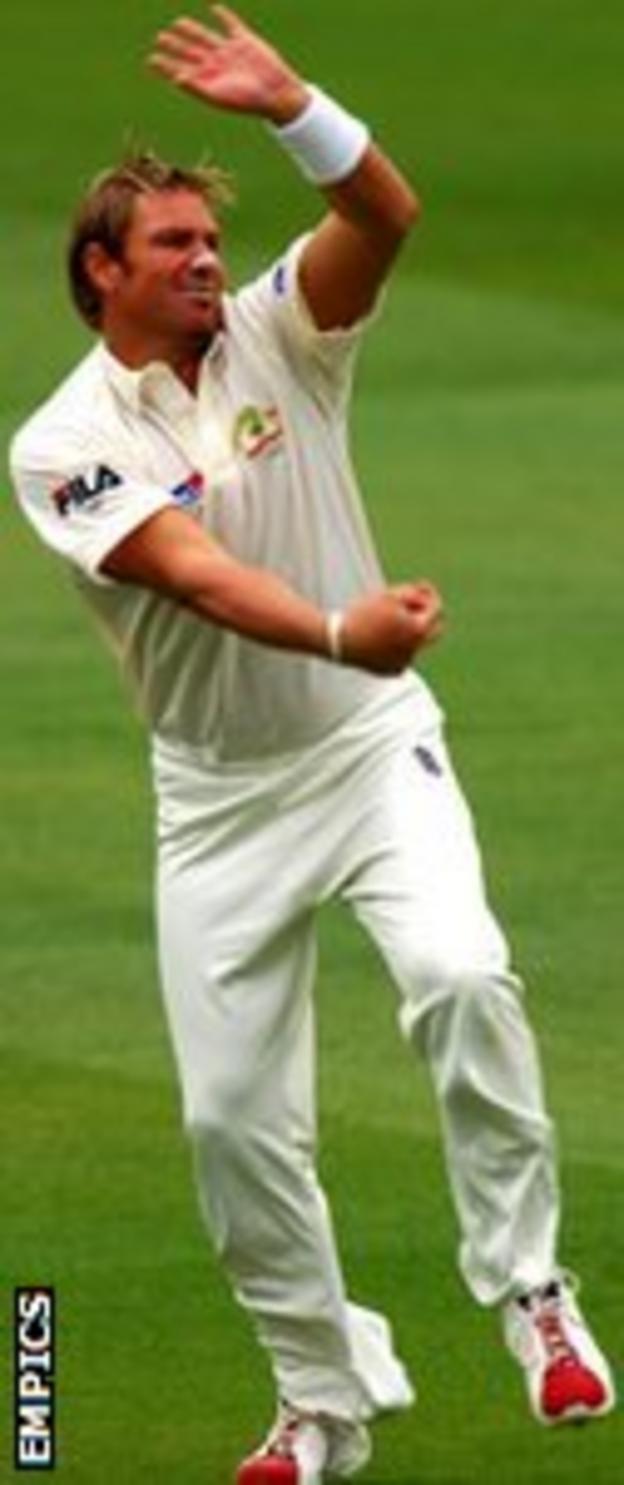 Ashes statistics - Matches: 36. Wickets: 195. Average: 23.25. Economy: 2.52. Best Ashes figures: 8-71
After decades of teams being filled with batteries of fast bowlers, Warne came on the scene, changing the face of cricket.
His Ashes impact was immediate.
One delivery, which was subsequently dubbed "Ball of the Century", announced the arrival of the bottle-blonde extrovert.
Warne's first ball drifted outside leg before darting back to hit Mike Gatting's off stump at Old Trafford in 1993.
Gatting was dumbfounded, but can take solace in the fact that many others subsequently fell to Warne's mastery, including 34 in that series.
Warne frequently tormented England, spinning his team to victory in an era of sustained Australian dominance.
His 708 Test victims places him second on the list of all-time wicket takers, 145 more than the nearest Australian and 325 more than the closest English player.
In his own words: "My finest moment? Winning the 1993 Ashes. Enough said."
ES: "This is the easiest pick of the whole lot, except for the Don."
PT: "The best there's probably ever been, isn't he?"
Harold Larwood (England)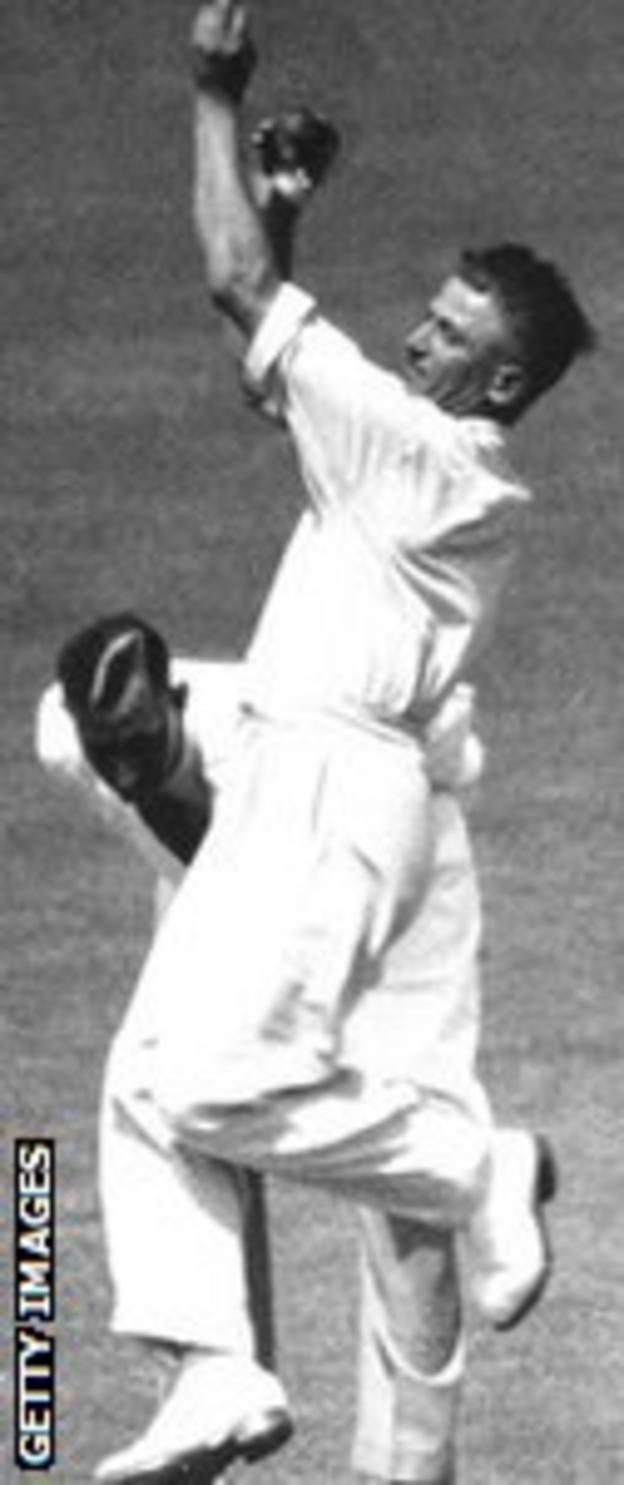 Ashes statistics - Matches: 15. Wickets: 64. Average: 29.87. Economy: 2.83. Best Ashes figures: 6-32
Larwood's name is inextricably linked with the Bodyline tour to Australia.
However, the association devalues the Englishman's standing as a Test bowler of the highest quality.
His searing pace made him a threat in all conditions but although he enjoyed spells of great success, he also suffered, most notably at Australian hands in 1930.
The bowler got his revenge two years on when Douglas Jardine saw the perfect intimidator weapon for the strategy of short-pitched, leg-side bowling in Larwood.
He took 33 wickets in the series but injuries to Bill Woodfull and Bert Oldfield from short-pitched deliveries in Adelaide inflamed the public and authorities alike.
On his return to England, Larwood was told to sign a letter of apology. The scapegoat refused and never played another Test.
In his own words: "A cricket tour in Australia would be the most delightful period in your life, if you were deaf."
PT: "It's got to be Larwood for me."
Dennis Lillee (Australia)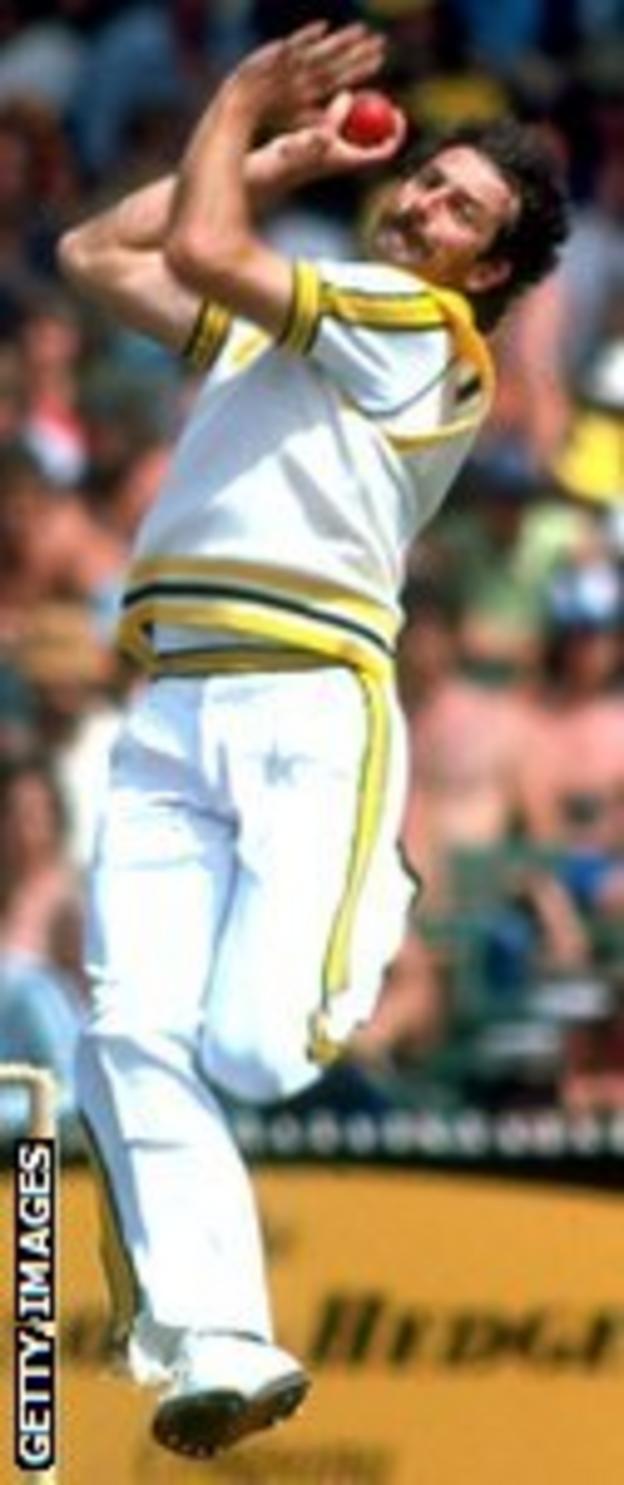 Ashes statistics - Matches: 29. Wickets: 167. Average: 21.00. Economy: 2.47. Best Ashes figures: 7-89
Lillee was the outstanding fast bowler of his generation, setting a new world record with a total of 355 Test wickets.
With flailing hair and a bristling moustache, Lillee was a menacing maelstrom of momentum racing into the wicket before letting loose from a classical side-on delivery.
He made his full Test debut against England during the following Australian summer, taking five wickets.
His first seven matches were all Ashes encounters and on his first tour he made his name on the international stage with 31 wickets at under 18 apiece.
He finished the 1972 tour with a 10-wicket match haul at The Oval - a feat he bettered by one on three occasions against England.
The last came on the final tour in 1981 when, again at the Oval, he secured his best Ashes figures and finished the tour with 39 wickets - his best series return.
In his own words: "G'day, how ya goin'?" (to the Queen in 1981)
PT: "Legend. One of my heroes growing up - brilliant bowler."
JM: "Batting with his aluminium bat!"
Glenn McGrath (Australia)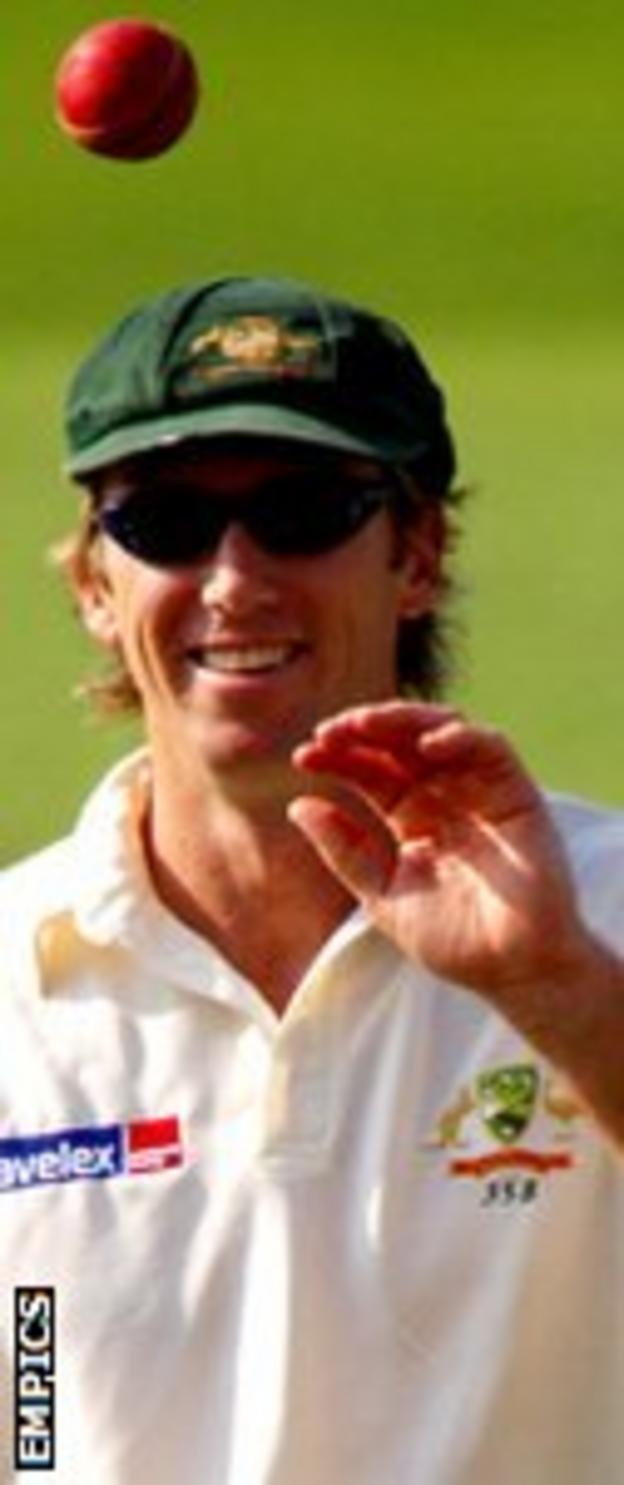 Ashes statistics - Matches: 30. Wickets: 157. Average: 20.92. Economy: 2.70. Best Ashes figures: 8-38
Line and length. Line and length. Pace too, but it was the metronomic, precise bowling of Australia's opening seamer that set McGrath apart from the pack and wore down many an England batsman.
Possessing a once-described "Rolls Royce action", McGrath sent English wickets flying for 13 high-class years during the height of Australia's 1990s and 2000s dominance.
A tall, lean man he gained pace and bounce to trouble most stroke-makers, and his accuracy tempted many of England's best into nicks that flew behind to be gathered by a grateful slip cordon.
So crucial was he to the Australia attack that many attribute a freak injury suffered in the 2005 Ashes series - he stood on a ball while warming up - with derailing the visitors' tour.
McGrath is the leading pace bowler wicket taker of all time. He retired in January 2007 alongside Warne, Justin Langer and Damien Martyn after completing a 5-0 whitewash Ashes win - a result that compensated for his 2005 heartbreak.
In his own words: "My prediction is it will be 5-0 to Australia."
VM: "It's so hard to argue against McGrath with his record."
12th men - Keith Miller as social secretary & Gary Pratt for fielding duties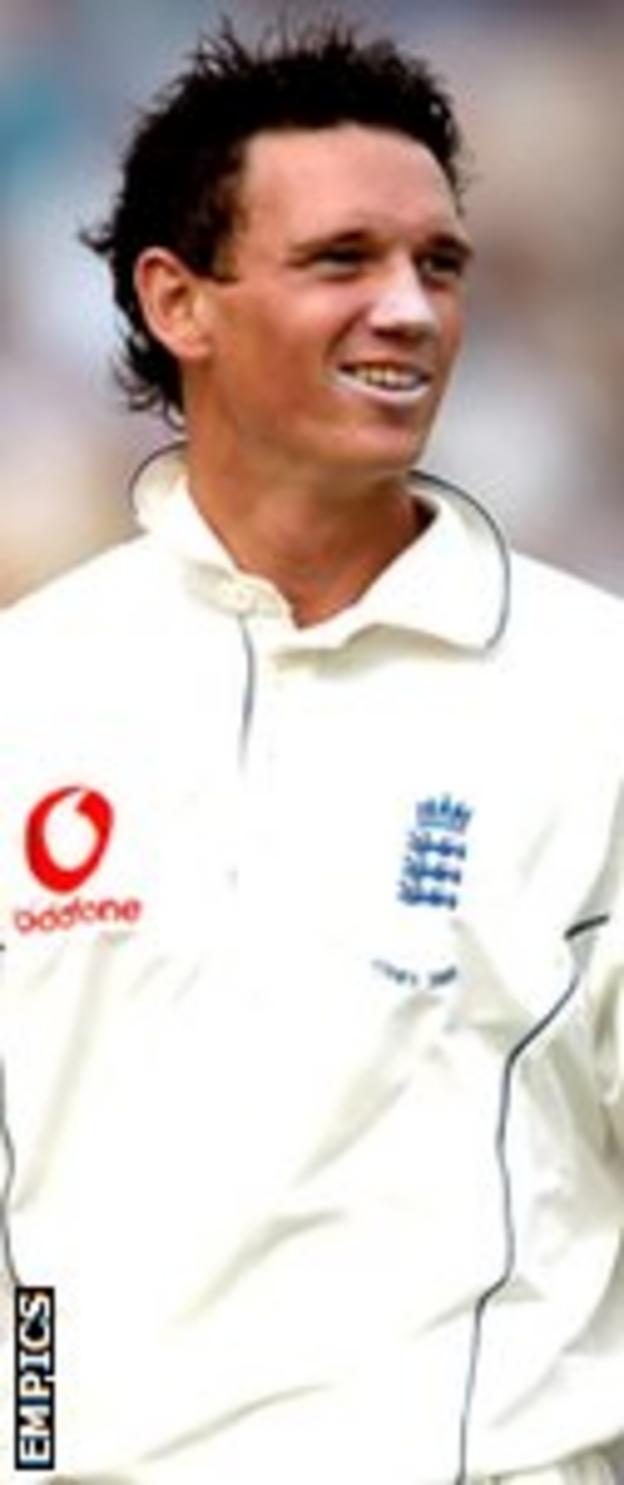 Australian Miller was an attacking batsman and a fiery bowler, but famed for his colourful character both on and off the pitch.
A Second World War fighter pilot, he knew sport's place - entertainment. His team once took to the field with 12 men after Miller allegedly forgot to nominate a 12th man, he played deliberately exciting cricket and, by all accounts, knew how to throw a good party.
The unheralded Pratt is perhaps the most famous 12th man in Ashes cricket.
A substitute fielder at Trent Bridge in 2005, he pounced on a Damien Martyn quick single and threw down the stumps before Australian captain Ricky Ponting could make his ground. England's players were ecstatic, the home crowd delirious, and Ponting livid - he stormed off the pitch and hurling a volley of complaint towards a delighted England balcony.
JA: "Miller's in there for social duties. He'd love that too."