Jersey name squad for ICC World Cricket League campaign
Last updated on .From the section Cricket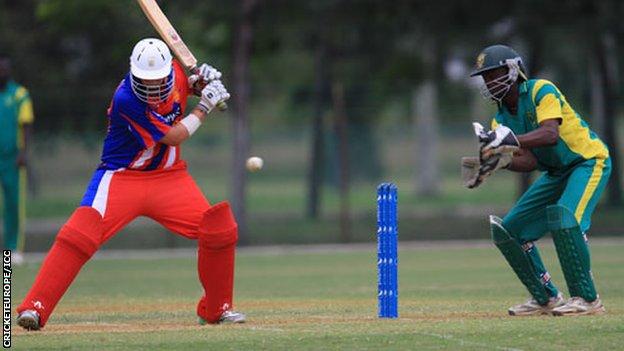 Jersey have named their squad for the ICC World Cricket League Division Six campaign which begins in July.
Jersey which will see them face Kuwait, Vanuatu, Argentina, Nigeria and Bahrain.
It's the first time the Channel Islands has hosted a global ICC tournament since 2008.
Paul McCafferty replaces Corey Bisson in the squad for the Continental European Championship T20 tournament in Amsterdam this weekend.
Jersey World Cricket League squad: Peter Gough (Captain), Edward Farley, Ben Stevens, Anthony Hawkins-Kay, Andrew Dewhurst, Tom Minty, Charles Perchard, Alex Cooke, Corey Bisson, Paul Connolly, Ben Kynman, Luke Gallichan, Corne Bodenstein, Jake Dunford.