Ashes 2013: Aussies fear turning into laughing stock

By Dan Roan
BBC chief sports correspondent
Last updated on .From the section Cricket109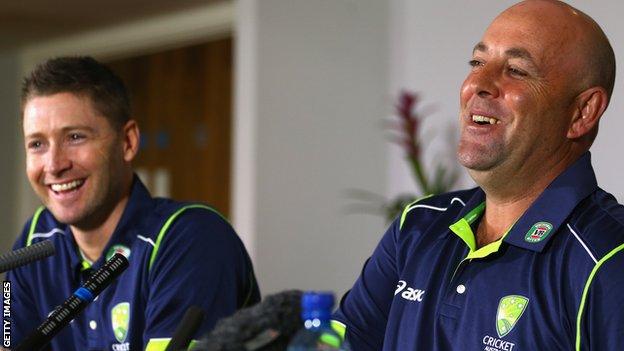 "Boof's the man," screamed the headline.
"He smokes and loves a beer. He chats. He's accessible. He speaks a language cricketers understand."
The Herald Sun's take on the qualities that make Darren Lehmann the right choice as Australia's new cricket coach may seem a little simplistic, but the tabloid does appear to represent the vast majority down under.
Lehmann is viewed by almost everyone I speak to here as the man to revive Australia's ailing cricket team, and an ideal replacement for the sacked Micky Arthur at a time when the words 'shambles', 'chaos' and 'crisis' are being used to describe the Baggy Greens on a daily basis.
The only blot on the South Australian's copybook seems to be his 2003 suspension for a racial outburst after being run out against Sri Lanka in Brisbane, but that seems to have been largely forgotten, or least forgiven by most cricket fans.
The chain-smoking 'Boof' as he is fondly known, is seen as someone belonging to a previous era of Australian cricket, when players relied on instinct, comradeship, fun, enthusiasm and passion, rather than sports-psychology, performance reviews and self-assessment assignments.
Writing in The Age, Lehmann's former wicketkeeper in Queensland, Chris Hartley said: "He is an excellent communicator and manager of people... Boof reminds us regularly that cricket is just a game and while every effort is expected to be that of a professional, he encourages us to occasionally step back and relax.
"A cold XXXX (beer) after a match win, lose or draw... is a chance to unwind as well as build team relationships and mix with oppositions...
"On that old school approach, his coaching method has been described by many as exactly that but in essence it's just a 'keep it simple' philosophy."
There is a real sense here that the sport has moved too far away from the values which helped turn its cricketers into the very best in the world and kept them there for two decades.
South African Arthur, the country's first foreign coach, was appointed in the wake of the Argus Report (the review brought about by the last Ashes defeat), which recommended sweeping structural changes and a new corporate approach.
The timing of his dismissal sent shock waves through Australia, (coming as it did just two weeks before the start of the Ashes), but the decision has largely been welcomed. Admittedly, many here believe others should share some blame; captain Michael Clarke, performance chief Pat Howard, badly behaved batsman David Warner, and Cricket Australia chief executive James Sutherland to name but a few, but most agree something had to be done after such poor results and player ill-discipline.
However, while the switch in coach has been widely supported, there is no denying that the team's malaise is the source of significant national anger and frustration.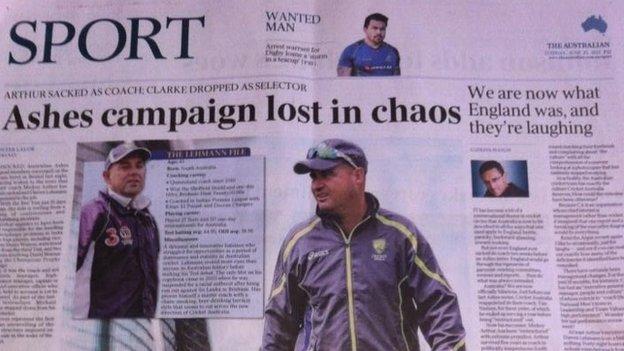 According to the well-respected English-born cricket journalist Gideon Haigh writing in The Australian: "Not even England ever sacked its coach two weeks before an Ashes series... we are now officially hilarious."
Haigh is critical of governing body Cricket Australia, "an organisation whose chief interest is management rather than cricket, it imagined that one report and the tweaking of the executive diagram would fix everything".
Others here point to the corrosive influence of Twenty20 tournaments around the world, with lucrative deals eroding the importance of Australian selection. The retirements of a generation of great players in recent years is also referred to when asked what is wrong.
This week I have been in Melbourne ahead of the second Lions Test. The gigantic MCG stands as a permanent reminder of the importance cricket plays in the national sporting psyche.
But at the moment the sport is a source of embarrassment and dread rather than pride. By the time England play the Boxing Day Test here in December many Australians fear their team could be 8-0 down in this year's 10-match contest spread over two series.
"The nation is in a state of terror at the prospect of 10-0," Alex Broun, a journalist with Inside Cricket, tells me.
"If that happens well just want the ocean to open up and sink into it. And it could happen. No-one expects anything other than two series defeats."
The busy landscape of Australian sport is shifting. The Socceroos may have qualified for the 2014 World Cup, and rugby league and Aussie rules are more popular than ever, but a dismal London Olympics could now be followed up by the prospect of defeat by the Lions in rugby union. But nothing will hurt as much as two Ashes hammerings. Boof may be the man for many but Lehmann has just been handed arguably the toughest job in Australian sport.