England must learn how to handle pressure ahead of the Ashes

By Jonathan Agnew
BBC cricket correspondent
Last updated on .From the section Cricket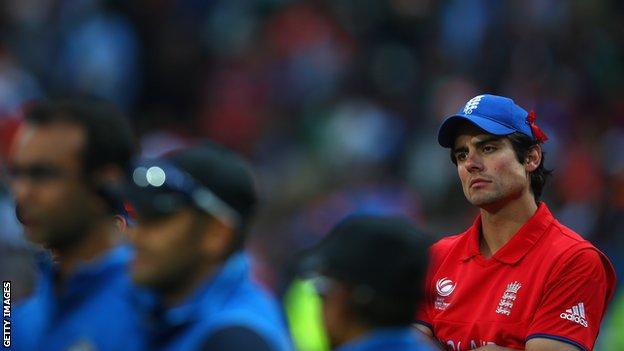 The manner of England's defeat by India in the Champions Trophy final will haunt them for the rest of this Ashes summer.
With 20 runs needed off 16 balls, six wickets in hand, Eoin Morgan and Ravi Bopara well set and the partnership worth 64, the game was as good as over at Edgbaston.
The match - and the tournament - was there for the taking, but England did not handle the pressure at all. Captain Alastair Cook will know that.
Former Australia coach Mickey Arthur this week questioned England's nerve under pressure, and the way they threw this game away hardly proves otherwise.
England's collapse goes to show what can happen in one-day cricket, but the team's panic showed in some of their dismissals.
It was an unnecessary shot from the left-hander Morgan, who swung Ishant Sharma to mid-wicket; Jos Buttler looked desperate when he tried to smash his first ball; and Tim Bresnan was floundering when he was run out.
No matter how close you are to winning, you have to finish the job. Morgan's dismissal swung the game.
However, Mahendra Dhoni should take a lot of credit for ramping up the pressure on England.
He was a magician with his field settings - he had a slip, a gully and a silly point to spinner Ravichandran Ashwin at one stage - and he was so cool even when England looked like they were going to win it.
India are the masters of one-day cricket and they showed it in the final.
They were the best team in the competition and they deserved to win it because they showed what they can do under pressure.
It was a wonderful game with fluctuations that you do not normally see in 20-over cricket - a fitting finale to end a tournament that has been a great success.
The fans who waited for almost six hours in the rain deserved a great game too, and I hope this is not the last time we see the Champions Trophy.
England, however, will be desperately disappointed by this defeat and it will take them a while to get over it.
They are putting themselves under pressure; they have been prickly all summer and things seem to be getting to them more than usual.
They need to look at where they are and try to analyse what happened at Edgbaston.
In terms of the Ashes, England are still a better team than Australia and if they play well they will win.
It's about how they pick themselves up. But they must not lose their focus and they must not become distracted.
Jonathan Agnew was talking to BBC Sport's Justin Goulding.