Ricky Ponting: Australian legend a 'modern batting phenomenon'

By Jim Maxwell
BBC Test Match Special
Last updated on .From the section Cricket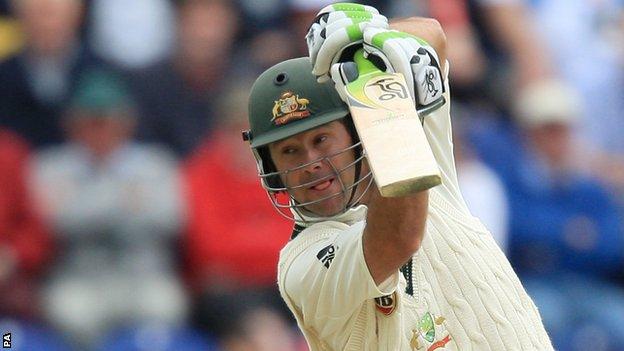 With Ricky Ponting announcing his intention to retire from all forms of cricket at the age of 38, the game is set to lose one of its modern batting phenomena.
In bowing out with 13,378 runs from 168 Test matches, 13,704 runs in 375 one-day internationals and 23,952 runs in 288 first-class matches - a figure that can still be improved on in his time with Surrey - the former Australia captain will leave behind a record that will be hard to match.
Though the numbers of Sir Don Bradman will never be equalled, Ponting has been Bradman-like while playing across a greater variety of conditions than 'The Don' ever did.
Ponting's career has been a pursuit of excellence, built on determination, self-reliance and fearlessness. However, whenever he discussed his marvellous feats, he always packaged them with what the team had achieved.
That is best demonstrated by the way he took his Australia team from a 2-1 defeat in the 2005 Ashes to the 5-0 whitewash of England in 2006-07.
Ponting also led from the front at the 2003 World Cup after Shane Warne had received a drugs ban on the eve of the tournament.
The skipper scored an unbeaten 140 in the final, one of the best innings he has ever played, demolishing the India bowling as Australia retained the trophy they had won four years earlier.
At the 2007 World Cup, Ponting's focused captaincy led the Aussies to their third successive title.
He in November 2012 as the second highest Test run scorer of all time behind Sachin Tendulkar.
His great success as captain was a continuation of the winning culture in Australian cricket that had been passed on from Allan Border to Mark Taylor and Steve Waugh, a tradition of tough yet entertaining cricket.
He was also fortunate to have been in charge of a team that contained some very fine players, not least Warne and Glenn McGrath.
Ponting's great strength, however, was getting the best from them and, in return, he offered unwavering belief in his men.
When surrounded by a team containing Warne, McGrath, Adam Gilchrist, Mathew Hayden and Justin Langer, other skippers may have felt that their job was just to turn up and toss the coin, but Ponting never let his standards drop.
He also offered tremendous inspiration to his players in the field. He was one of the best slip catchers in the world and a great run-out champion. He was always in the game, giving the opposition something to worry about.
Of course, there were bumps in the road and, many have used the example of the young Ponting appearing in front of the media with a black eye in 1999 after a drunken night in Sydney, in light of the recent controversy surrounding David Warner, suspended until this summer's first Ashes Test for punching England batsman Joe Root in a bar.
He'd previously had a pretty tough upbringing in Mowbray, Tasmania, giving him an edge that took a little while to change.
Ultimately, though, Ponting has always been honest and, on that day in 1999 he admitted a problem with alcohol and went away to address it.
That he has gone on to become perhaps the most admired sportsman of the past decade in Australia shows the balance that he found in his life.
Still, on the field, Ponting remained one of the most combative individuals to have ever played the game.
That shows in his durability. In the last Australian domestic season, Ponting - the second-highest run scorer in Test history behind Sachin Tendulkar - was named Sheffield Shield Cricketer of the Year at the age of 38 as Tasmania won the title.
Then, on his Surrey debut earlier this month, Ponting announced his arrival by scoring 192 against Derbyshire.
Given the way the game is going, with limited-overs cricket gradually taking importance away from Test matches, it will be hard for players of the future to gain the status Ponting has.
Indeed, he may well be the last of the great Australian Test batsmen.