Surrey coach Stuart Barnes pleased with players' response
Last updated on .From the section Cricket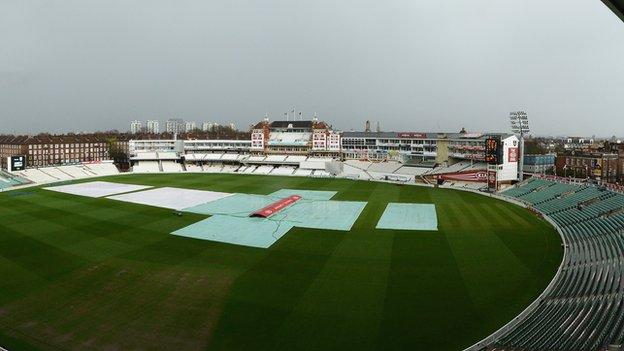 Stuart Barnes says Surrey's players have responded positively since he took charge of team affairs.
Barnes told BBC London 94.9: "Quickly we started planning the way forward.
"We had a good training session [on Wednesday] - very intense - and have spoken about a lot of things. It's a challenge, but that's why I'm here."
Surrey legend Alec Stewart, an executive director of the club, was given an overseeing role and Barnes assumed day-to-day management of the side after their poor start to the season led to changes being made.
The team have failed to win a Championship match so far this term, but Barnes believes there have been positive signs.
"We've been playing some good cricket at times but, if we're honest, haven't done it for long enough and often enough," he said.
"We've spoken out that. It's really about knowing what we do well, knowing what we need to do more of, and it's the whole process of earning the right to apply pressure and go in for the kill against the opposition.
"We've shown some really good signs of it and now our focus is on learning from that, having a little bit more patience and putting together a good performance over four days.
"The players look ready for the challenge of heading to Yorkshire. We've practised some specific drills and prepared for what Yorkshire might give us."
Surrey's cause has been helped by the availability of Kevin Pietersen and Barnes believes the England star can play a vital role for the team.
"It's great to see him here," said Barnes. "From my perspective, it'll be great for me tap into Kevin's experience.
"We'll do whatever we can to help him perform for us and get him back for England."