Essex: Ryan ten Doeschate puts two-year struggle behind him
Last updated on .From the section Cricket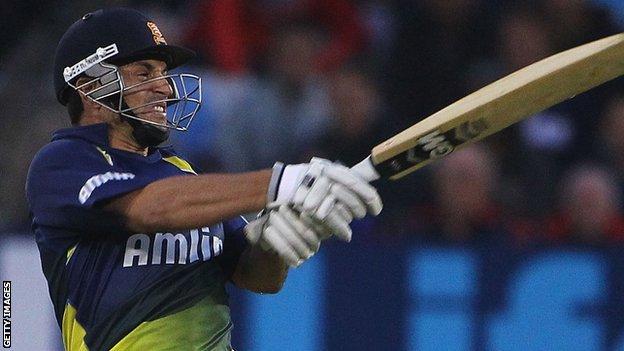 Essex all-rounder Ryan ten Doeschate says he will start this year's Twenty20 as the "player of two years ago" after a lengthy struggle with the bat.
The 32-year-old has averaged 17 in the competition across the past two seasons.
"I've struggled in all forms the last two years," he told BBC East Sport.
"I think I've put that behind me, I've worked on a few things. I feel like I can hit sixes again which is a very important part of T20."
Ten Doeschate's dip coincided with a concerted change in style for the big-hitting batsman, with his one-day form most notably suffering after 40-over averages of eight in 2011 and 34.60 in 2012.
"I got into a really bad habit with my hands," he said.
"I've always had a problem with balance and one of the ways the coaches and I tried to overcome that was to stand taller at the crease.
"That put my hands very high, whereas my natural style is to start with my hands low and pick the bat up and hit the ball.
"It was the right intention but it stopped me from hitting the ball cleanly.
"I've gone totally back to the way I was since October last year."
The Netherlands international's return to his former style evoked strong performances in Twenty20 competitions in New Zealand and Bangladesh over the winter - with averages of 43.20 and 50.12 respectively.
And despite a County Championship average of 21.80 this term, the South African-born batsman is confident ahead of Essex's Twenty20 opener against Hampshire next week.
"I've not got the runs but I feel like the player I was two years ago," he said.
"I've had good seasons in New Zealand and India, there's no reason why I can't replicate it here.
"I feel like I'm striking the ball very well and that I've got a lot of runs in the tank."