Champions Trophy: Alastair Cook relishing 'dream' England final

By Tom Fordyce
Chief sports writer, BBC Sport at The Oval
Last updated on .From the section Cricket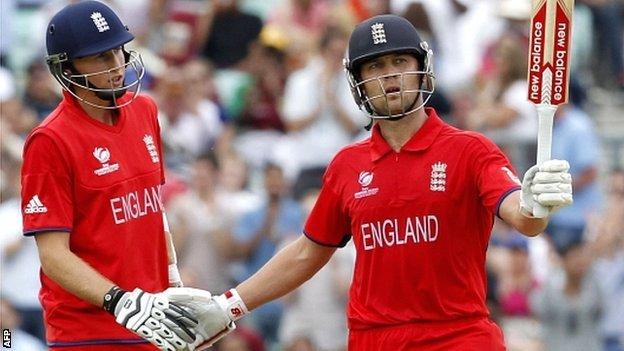 Captain Alastair Cook says it will be a childhood dream come true when England step out for Sunday's Champions Trophy final at Edgbaston.
"You grow up wanting to play in finals, whether it's an under-13 football tournament or now that our sights are a little bit higher," Cook said.
"I've got no doubt the guys will turn up. I just hope it's our turn."
He added: "Finals can bring out the best in people. This England side in particular has delivered when the chips have been down."
South Africa's outgoing coach Gary Kirsten said his country's reputation for faltering in high-pressure tournaments - they have not won a match in the knockout stages of a global competition in 13 years - had been borne out once again.
The Proteas were reduced to 80-8 after a seven-over opening spell of 2-11 from James Anderson and three wickets for spinner James Tredwell and, although they recovered slightly to reach 175, England - led by Jonathan Trott's 82 not out - eased home with 12.3 overs to spare.
"I think we did choke the game," Kirsten admitted. "It's a word we've become comfortable with. You have to accept that's what it is.
"[England] bowled exceptionally well, but that doesn't mean your batting line-up should be 80-8. We let ourselves down today."
Cook preferred to credit his own team. "I don't think they choked," he said.
"If you'd have said while we were on our way to the ground, we were going to win by seven wickets by 5 o'clock today, we would almost have laughed at you.
"But I think we played very well and put them under a lot of pressure. We didn't allow them to play, so our bowlers deserve enormous credit.
"It was a good toss to win - it just did enough and the ball swung, the first time the white ball has swung conventionally in this tournament.
"When it does swing like that, there's no bowler in the world you'd want rather than Jimmy Anderson. He was outstanding, and the other guys backed him up.
"It was an outstanding first few hours of cricket from us. We kept asking them questions with the ball and we never let them get away."
But Kirsten conceded that his side's dismal record in major one-day tournaments left him both baffled and disappointed.
He said: "It's a dark mist that hangs over South African cricket in knockout events, and at some points we're going to have to cross the line.
"If we had the secret recipe to turn it around we would package it and be selling it. It might not be pretty, but at some point we're going to have to do it.
"We had better expectations. To be blown away with the bat with the quality of the batsmen we have was not something you would expect."
England's highest-profile engagement this summer is the forthcoming Ashes series, but for Cook and his side this often lamented tournament is turning into anything but an early-season warm-up.
England have never won a global 50-over tournament, the only team among the major cricket-playing nations not to do so.
While they reached the final of this competition in 2004, they have struggled to convert a decade of Test improvement into the one-day format, and have not reached the final of a World Cup since 1992.
Cook said: "It's very hard to compare one-dayers and the Ashes, but at the start of the summer we had very clear goals we wanted to achieve, and one of them was winning the Champions Trophy. We've given ourselves a great opportunity to do that.
"To be through with the quality opposition we've faced has been a good achievement, and hopefully it won't stop here.
"It's in our own hands. If we turn up and deliver some good skills we have a good chance of winning.
"It would be a massive achievement. It's taken us a long time to get to a final since 2004. Hopefully this time we can go one better."