The Ashes: Australia 'can surprise' England - Shaun Tait
Last updated on .From the section Cricket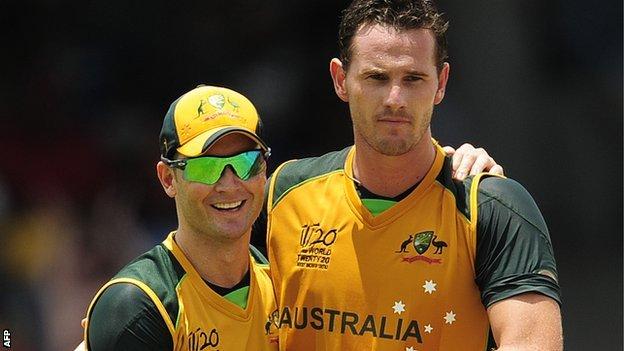 Former Test bowler Shaun Tait has said Australia can "surprise a few people" in the forthcoming Ashes series.
Australia's build-up to the first Test on 10 July has been marred by an the suspension of batsman David Warner and
"The Ashes is different to playing one-day tournaments," Tait told BBC Essex.
"England are the favourites. But I'm looking forward to seeing Australia surprise a few people."
Australia failed to progress past the group stage of the Champions Trophy following defeat by Sri Lanka on Monday.
Clarke has been suffering with a back injury and did not play a part in the tournament, while
And three-time Test cap Tait, who plies his trade solely in Twenty20 cricket these days, admitted his countrymen are enduring a tough period in the lead-up to the Ashes.
"It's pretty ordinary at the moment," said the 30-year-old.
"They've had a shocker in the Champions Trophy by Australian standards."
But Adelaide-born Tait is confident Clarke, 32, who averages 45.50 in Tests against England, will be fit.
"I spoke to Clarkey a week or so ago. It sounds like he will be OK for the Ashes," he said.
"Obviously the media blow things out of proportion with the injuries, they need to stir things up before the Ashes start.
"If we're going to rely on one player we're going to struggle from the start. The other players have to step up and help Clarkey out."
Tait is in England to play in Essex's Twenty20 campaign, which begins in Chelmsford against Hampshire on 28 June.
He remains in the record books after bowling the quickest delivery by any Australian - 100.1 mph (161.1 kph) in a one-day match against England at Lord's in 2010 - and although he does not expect an Ashes call-up, he added that nothing can ever be ruled out.
"A few years ago playing for Glamorgan I wasn't planning on playing for Australia and I got called up to a one-day tour," he said.
"Test cricket is a little far-fetched for me now. But never say never, why not. You never know."