Jersey aim to make T20 World Cup qualifiers
By Brent Pilnick
BBC South West Sport
Last updated on .From the section Cricket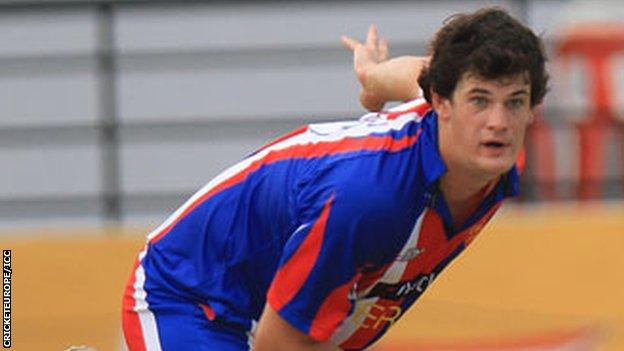 Jersey Cricket Board's chief executive Chris Minty says the island can make the global qualifiers for the Twenty20 World Cup for the first time.
Jersey have named their 14-man squad for the in Sussex.
Ben Kynman, Luke Gallichan, Jake Dunford, Corne Bodenstein and Paul McCafferty will all play in their first ICC-sanctioned tournament.
"We're well equipped to go a stage further," he told BBC South West Sport.
"It would be huge for the island, a fantastic achievement."
The two finalists of the event go through to the global qualifying round for the ICC Twenty20 World Cup in the United Arab Emirates in the autumn, with Jersey narrowly missing out in 2011 when they
The island team are after he was ruled ineligible by the ICC.
"Dean would have been there had he been eligible," added Minty.
"The average age is around 22 or 23 and so it bodes very well for the future.
"It's not a worry about their youth, they've been together throughout the season, they've played against the MCC and Cornwall fine.
"We looked at them at the end of last season and played last Friday and so their youthfulness will stand them and us in very good stead."
Jersey squad: Peter Gough (captain), Ed Farley, Anthony Hawkins-Kay, Andrew Dewhurst, Tom Minty, Charles Perchard, Ben Stevens, Alex Cooke, Corne Bodenstein, Paul Connolly, Paul McCafferty, Luke Gallichan, Jake Dunford, Ben Kynman.