Kevin Pietersen set for pre-Ashes return from injury for Surrey
Last updated on .From the section Cricket147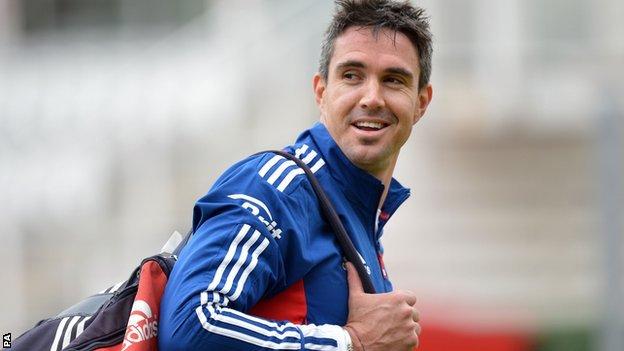 Kevin Pietersen is expected to return to action on Friday after three months out because of a knee injury - handing England a major boost ahead of the Ashes, which start on 10 July.
The batsman, who last played in March, looks highly likely to be part of the Surrey team for the County Championship game against Yorkshire.
Asked on Twitter if he was playing, Pietersen replied: "Yes I am."
There had been doubts as to whether the 32-year-old would be fit for the Ashes.
However, Pietersen also recently tweeted that he was "feeling great" after a net session, which involved fitness work and fielding practice in addition to batting.
His return would strengthen England's batting line-up with the right-hander having scored 7,499 runs at an average of 49.01 in 94 Test matches.
The South African-born batsman made his England Test debut against Australia in 2005 and his 158 on the final day of the series helped England seal their first Ashes victory since 1986-87.
He has since played in two more successful England Ashes sides, scoring 360 runs as Andrew Strauss's side won 3-1 down under in 2010-11. However, he missed the final three matches of the 2009 series in England because of an Achilles injury.
In total, he has three hundreds and eight fifties to his name against Australia, averaging 52.71 in 17 matches.
Pietersen's absence started when he was ruled out of the third Test on the tour of New Zealand and he has since missed the return series in England, as well as the current Champions Trophy tournament.
Only last month, England bowling coach David Saker said there were still doubts whether the batsman would be fit for the Ashes.
England, who play New Zealand in the Champions Trophy on Sunday, also face the Kiwis in two Twenty20 matches before a four-day match against Essex ahead of the first Test against Australia at Trent Bridge.