Ball-tampering: England's Ashley Giles denies allegations
Last updated on .From the section Cricket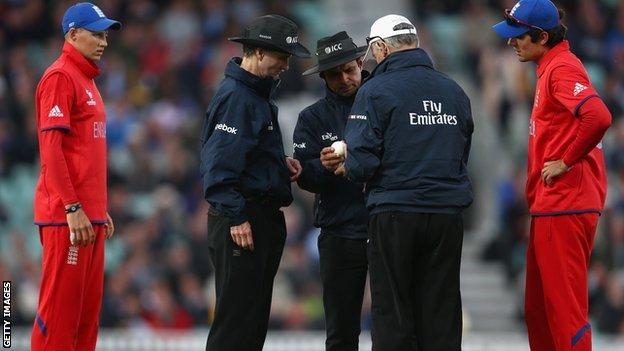 England limited-overs coach Ashley Giles says his team are not ball-tamperers, after allegations made by former captain Bob Willis.
But Giles said: "We don't tamper with the ball and I hope we can talk about something else.
"There are a lot of headlines about the wrong stuff. The ball was changed because it had gone out of shape."
Umpires Aleem Dar and Billy Bowden changed one of the two balls in the 26th over at The Oval on Thursday and Willis believes this was due to deliberate roughing up of the ball from one unnamed England player.
"Aleem Dar is on England's case," he told Sky Sports. "He knows that one individual is scratching the ball for England - who I am not going to name - and that's why the ball was changed."
At the time of the change, England's bowlers were beginning to find some reverse swing, which had been a key factor in their opening win over Australia at Edgbaston.
Speaking after the seven-wicket defeat to Sri Lanka, captain Alastair Cook said: "The ball was changed because it was out of shape. The umpires make those decisions and you have to accept them.
"Sometimes you don't think they are the right decisions but there's not much you can do about it."
That loss left England needing to beat New Zealand on Sunday in order to reach the semi-finals and, ahead of the game in Cardiff, Giles said: "It is disappointing because we have a huge game, a quarter-final. It is must-win.
"The ball was changed, the rest is history. People have the right to say what they say, we can't stop them.
"It sounds boring, but we have to focus on what we want to do. The most important thing is winning cricket matches and not what Bob Willis says."
Giles also admitted he knew which player Willis was referring to.
"We play our cricket as hard as anyone else and the headlines are disappointing," he said. "There has even been mention of one of our players having a specific role.
"That player is an extremely good player and we'd like to let him concentrate on cricket."
Former England captain Michael Vaughan said the host nation had a right to be unhappy about the allegations and that the International Cricket Council had missed an opportunity to end the row.
He told Test Match Special: "If I was in the England camp I'd be very annoyed with the allegations.
"I captained for six years and not once did an umpire come to me and say the ball was out of shape - even when I wasn't captain, never.
"This could have been completely put to bed if the ICC released a statement confirming it was out of shape."