David Warner attack 'despicable', says Cricket Australia chief
Last updated on .From the section Cricket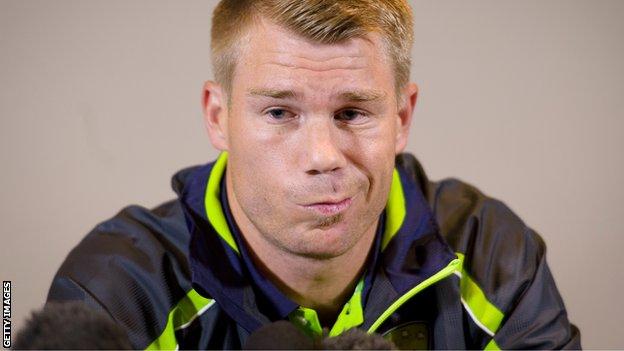 David Warner's punch on England player Joe Root has been described as "despicable" by Cricket Australia chief executive James Sutherland.
Australia batsman Warner, 26, has apologised for punching Root in the face at a Birmingham bar on Sunday.
Warner has been suspended until the first Ashes Test on 10 July and fined £7,000 (AU $11,500) over the incident.
Sutherland said the rest of the Australian team and management also needed to take responsibility.
"David Warner has done a despicable thing but I also hold the team to account here," he said.
"There were other people there with him and those that were there need to take responsibility for that, but so does the team as a whole and the team management group as well."
Warner attacked Root in the early hours of Sunday following Australia's 48-run Champions Trophy defeat against England at Edgbaston.
He will miss the remainder of his country's Champions Trophy campaign and the tour matches against Somerset and Worcestershire, although he is eligible for the first Ashes Test at Trent Bridge.
Sutherland, speaking at a news conference at Cricket Australia's Centre of Excellence in Brisbane, suggested that Warner would find it hard to regain his place for the start of the Ashes series.
He said: "Cricket people know it's going to be very hard for David Warner to be selected for the first Test. He can't play cricket until the first Test match starts.
"He's under no illusions as to the direction his career is headed right at this moment. We have very high expectations that he will make much better decisions going forward.
"He's making some pretty ordinary decisions and getting himself into trouble, and he's bringing the game and his team-mates and the team down. That's not going to be tolerated much longer."
It is not the first time Warner has been in trouble with the cricket authorities. He was fined £3,700 by Cricket Australia last month for a foul-mouthed Twitter exchange with two journalists.
Former Australia bowler Jason Gillespie believes that Warner needs to grow up - but that the team's management must also take responsibility for player indiscipline.
Gillespie, Yorkshire's coach, told BBC Radio 5 live: "It's schoolyard stuff really, isn't it? These are grown men. David Warner's a grown man and he's made some poor decisions. That's disappointing to see.
"All he can do is learn from it. That's what we hope that he does - learn from these indiscretions.
"I encourage our players [at Yorkshire] to celebrate wins. But we're talking about grown men. They've got to make their own decisions. You can't baby them.
"If you treat grown men like kids, then they will act like kids. You treat them like men, and if they step out of line, you discipline them.
"It starts with management. They've got to get it right. There's something not right there at the moment. They need to get it right or they need to make a change. Simple as that."