Champions Trophy: Dwayne Bravo challenges 'chokers' South Africa
Last updated on .From the section Cricket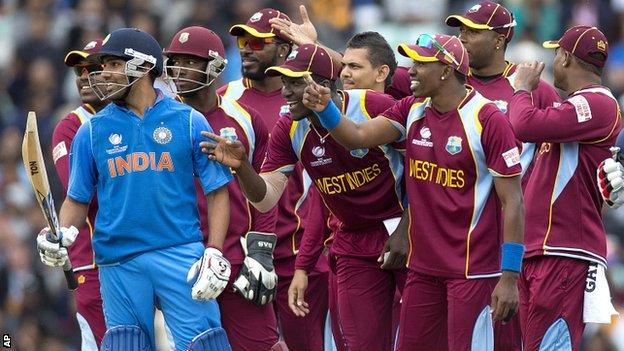 West Indies captain Dwayne Bravo says the pressure will be on "chokers" South Africa in their decisive Champions Trophy game.
The winners of the Group B match in Cardiff on Friday will secure a place in the semi-finals alongside India.
"I think the South Africans will feel the pressure," said Bravo. "They know if they lose, they are going back home.
"They have a tag of being chokers that do not do well in big tournaments, so that would be added pressure on them."
West Indies won the World Twenty20 last October, but have lost the last 12 one-day meetings with South Africa, dating back to 2006.
"We're going to enjoy the occasion and forget about what happens in previous games," added all-rounder Bravo, whose side opened the tournament with a two-wicket win over Pakistan before losing by eight wickets to India.
"It's a tournament. It's a knockout game. We've been in this situation before and done well, so no pressure is on us.
"I'm not worried about the record of the previous games. I'm really excited and looking forward to this game tomorrow."
South Africa Test captain Graeme Smith, who is not part of the one-day squad because of an ankle injury, responded to Bravo's comments by writing on Twitter: "Never mind pressure on Proteas, Dwayne Bravo just put it all on himself! Not the smartest move from him I reckon."
Captain AB de Villiers looks set to be able to call of Dale Steyn for the first time in the tournament, after the pace bowler missed the opening defeat by India and the victory over Pakistan with a side strain.
"He bowled at 100% intensity yesterday [Wednesday], and it was sort of the first part of his fitness assessment and today he's doing a bit more," said De Villiers.
"He's 99.9% ready, but we're just going to make sure that he'll be ready to go.
"It's almost a yes, just not yet. Just got to wait a few hours and then we'll make the final call, but it's looking good."