Michael Vaughan says David Warner has tarnished Australia
Last updated on .From the section Cricket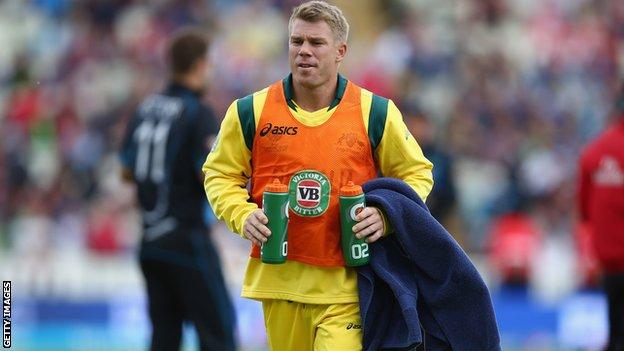 Former England captain Michael Vaughan believes the entire Australia set-up has been tarnished by David Warner's alleged attack on Joe Root.
Warner was left out of Australia's side for the Champions Trophy game against New Zealand after the altercation in a bar in the early hours of Sunday.
Vaughan said he thought 26-year-old Warner "must have a screw loose".
"Unfortunately David Warner has tarnished the whole Australia cricket team," he told BBC Sport.
"People are talking about him but the whole network, structure, captain, management, supporters, are all tarred with the same brush because of what that one individual has done to the team."
Australia's stand-in captain George Bailey said on Wednesday evening that no decision had been made on Warner's future. The hearing is due to take place on Thursday.
Of his team-mate, who carried the drinks during Wednesday's match, he said: "I thought he took it on the chin. No pun intended.
"From my point of view, it's disappointing. It's a very minor incident and being dealt with in-house."
Warner confronted England batsman Root in Birmingham just hours after England's Champions Trophy victory over Australia at Edgbaston.
Vaughan insists that Australia coach Mickey Arthur and captain Michael Clarke can take no responsibility for the incident, which comes just under a month before the Ashes series starts on 10 July.
Arthur dropped four players for the third Test in India in March for failing to complete a team presentation in an attempt to introduce a more disciplined culture.
In May, Warner was fined £3,700 for posting abusive comments to journalists on his Twitter account.
Vaughan, who played 82 Tests for England, 51 as skipper, before retiring in 2009, added: "In India a few months ago they would definitely have felt it couldn't get any worse and you come to England and it's a clean slate.
"People will say the management isn't strong enough but what does the management do when someone swings at an opposing player at 02:00 or 03:00?
"It's nothing that a coach or a captain can stop, it's down to that one individual acting in an irresponsible manner."
Asked if he felt Warner had "a short fuse", Bailey - who is skippering the side in the absence of the injured Michael Clarke - replied "not at all".
Bailey added: "I really enjoy playing cricket with him, love his enthusiasm around the group and wish I had the talent he has."