Gloucestershire: Michael Klinger says players must learn quickly
Last updated on .From the section Cricket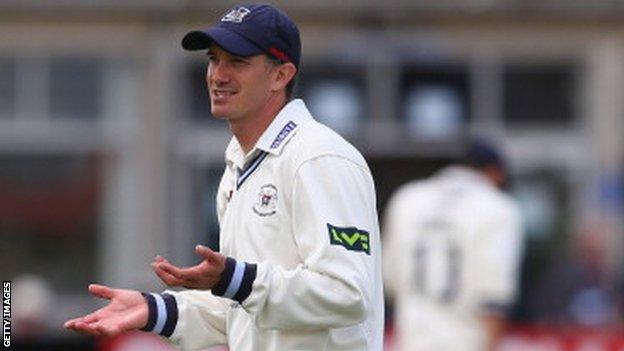 Gloucestershire captain Michael Klinger says promotion is achievable if his team learns from early-season mistakes.
Despite winning only one of their opening seven County Championship fixtures, Gloucestershire are just 12 points off second spot in Division Two.
Klinger said: "We are a team that needs to learn from the mistakes we've made in the first part of the season.
"Whether we get into those top few positions depends on how quickly we learn," he added.
Gloucestershire are sixth in the table, having drawn four times this season, but have a game in hand over Worcestershire, who currently occupy the runners-up position.
Australian batsman Klinger added: "If the players can learn quickly enough there's no reason why we can't finish there or thereabouts.
"But every other team will be in a very similar position and thinking in that way too, so we'll have some hard-fought games going forward.
"As we've seen, a win or two can change things very quickly, and what we are doing is not giving up points to the opposition often.
"If we hang in there and can pick up two wins in a row from somewhere, which we certainly believe we can do with our skill-set, then suddenly we can jump up the ladder like Worcestershire have over the last few weeks.
"You're never too far away if you can keep hanging on in there in the middle of the table.".