Gloucestershire laughing off injury woes - Will Gidman
Last updated on .From the section Cricket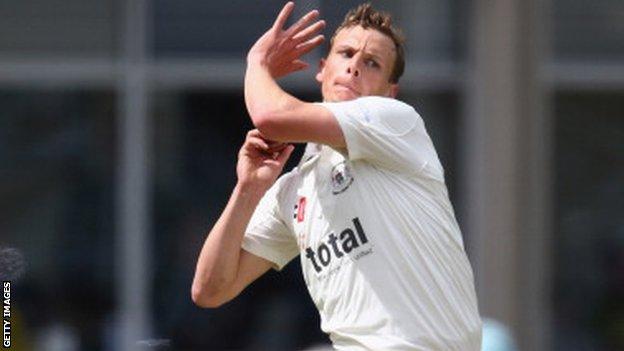 Seam bowler Will Gidman says Gloucestershire's injury problems are so severe, the players can only try to laugh the situation off.
Gidman himself remains sidelined by an ankle injury and Paul Muchall, Ian Saxelby and Ed Young are others currently on the sidelines.
The 28-year-old said: "The season's got to a point with injuries where you've just got to try and laugh about it.
"Team spirit is doing well and the boys are staying very upbeat."
Fellow seamers Muchall and Saxelby have been absent since pre-season and spinner Ed Young had a wrist operation last Friday, which will keep him out for at least four weeks.
Despite that, the county are top of their YB40 group after four wins from six games and although they are sixth in Championship Division Two, they have only lost twice in seven matches.
Gidman, who suffered his injury last month but expects to be fit in time for the Cheltenham Festival in July, told BBC Radio Gloucestershire: "It's been one of those freak seasons where we've had two or three injured at any one time and as soon as one comes back, another goes down.
"Hopefully, in the second half of the season we will have more luck and everyone can be fit and fighting for places.
"The mood around the camp is pretty good. We've had a couple of great results and we are playing some decent cricket."
Gidman is now preparing to play club and second-team cricket as his rehabilitation continues.
"I'm certainly not expecting to walk straight back into the [first] team," he added.
"They've been playing some good cricket and I've got to go and put some hard yards in the nets and play some club cricket and second-team cricket and work my way back in. I certainly don't expect to have anything given to me."