Denesh Ramdin: West Indies keeper banned over catch claim
Last updated on .From the section Cricket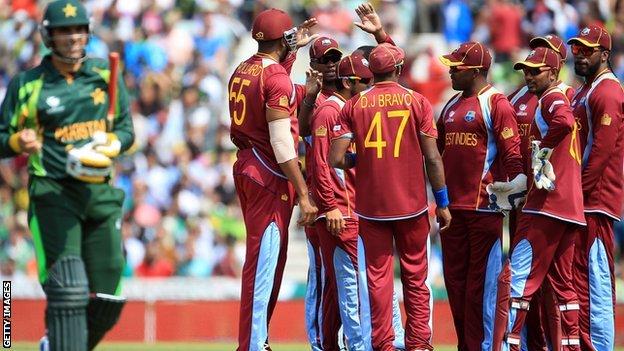 West Indies wicketkeeper Denesh Ramdin has received a two-match one-day international ban for claiming a catch he dropped in the Champions Trophy win against Pakistan.
The 28-year-old claimed a catch off Misbah-ul-Haq, but could be seen grounding and picking up the ball.
The International Cricket Council found him guilty of "conduct that is contrary to the spirit of the game".
He will miss the games against India and South Africa.
Ramdin, who has also been fined all of his match fee, pleaded not guilty and still has the right to appeal.
After initially taking the edge, Ramdin grounded the ball and was seen picking it up off the ground.
Misbah was initially given out caught off the bowling of Kemar Roach, only for the decision to be overturned on review.
Chris Broad, a member of the ICC's panel of match referees, adjudicated over Ramdin's case and said: "This is regarded as a serious offence as it is the responsibility of all players to act in the spirit of the game.
"I hope Mr Ramdin has learnt his lesson from this incident and that we will not see such behaviour by him or any player in the future."
The West Indies' two-wicket win at The Oval on Friday means they will be close to a place in the semi-finals if they beat India on the same ground on Tuesday.
However, they will have to do so without Ramdin, and have no other recognised keeper in their squad.