Luke Wright: Sussex must improve to keep title hopes alive
Last updated on .From the section Cricket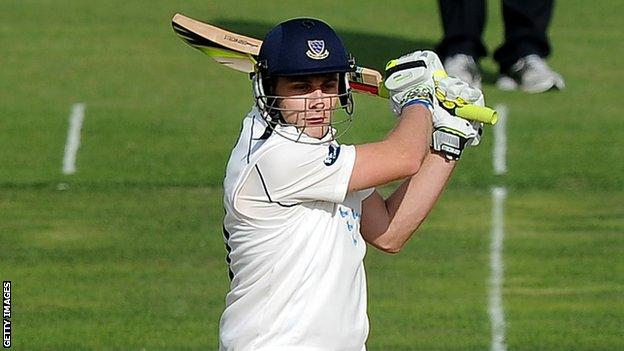 Luke Wright says Sussex must up their game if they are to remain in the hunt for the County Championship trophy.
He told BBC Sussex: "To come out with a draw is a great effort but we are not in it to keep surviving in games.
"If we want to win the Championship we have got to play better. We want people to get scores in the first innings. That's how put pressure on people."
Wright, who missed the start of the domestic season because of a spell in the Indian Premier League, top-scored for Sussex in both innings as well as picking up two wickets.
"We probably didn't do the right thing with the toss but we need to bat better and bowl better in the first innings," the 28-year-old added.
"In an ideal world my 187 would have come in the first innings instead of getting out on 70-odd, although it's different when you're seven or eight wickets down.
"That's what Chris Rogers did to us and put us under a lot of pressure."
Sussex remain top of the Division One table after denying Middlesex a win but Sussex cricket manager Mark Robinson says the result must not "paper over some cracks".
"It feels like we got out of jail," Robinson told BBC Sussex.
"We haven't had a great game. We misread the wicket to an extent, we have not batted particularly well and we dropped catches that put us under pressure.
"We have only come away with five points. It means we are unbeaten and it stops Middlesex, who are up there with us, from picking up points,.
"But we finished the game strongly and that's what you want to do."
Meanwhile Wright has praised spinner Will Beer for his role in Sussex's fightback at Lord's.
The 24-year-old made 25 and 39 in the first and second innings respectively to help Wright in crucial partnerships of 88 and 101.
"He came in and batted brilliantly and very calmly under a lot of pressure," Wright said.
"He lined it up brilliantly and took a lot of pressure off me. They kept giving him one at the end of an over, he kept taking it and kept seeing off one over after another.
"For a guy that hasn't played too much first-team Championship cricket, he was very impressive in the game."