Nick Compton: England opener ignores Ashes 'pressure'
Last updated on .From the section Cricket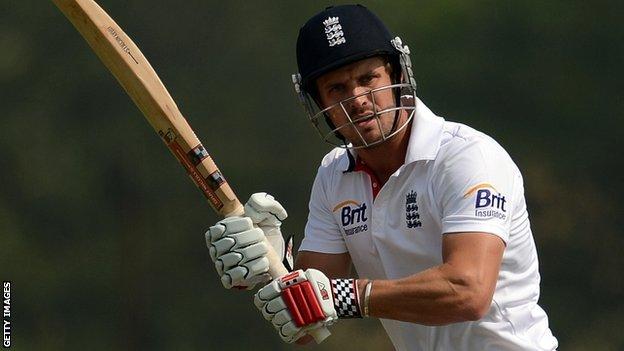 Somerset's Nick Compton has insisted he is ignoring the attention surrounding his form as he looks to clinch his place in England's Ashes team.
The 29-year-old opener has come under scrutiny after scoring only 54 runs in his last six Test innings.
But on his return to the Championship, he hit his first century since April in Somerset's draw with Durham.
"I haven't made much of it but it seems a lot of other people have," South Africa-born Compton told BBC Somerset.
"The hype surrounds the Ashes and it's quite easy to get caught up in it.
"I'm someone with some maturity now and I haven't been too caught up in it."
However, Compton admitted he did feel the strain during England's second Test against New Zealand last month, in which he only managed scores of one and seven.
"There's an ambition and drive to want to be successful and I think that comes with a bit of pressure," he continued.
"Having pulled myself out of that environment now, it's quite good to have that perspective where I can look back and perhaps think I was overcooking it.
"Maybe I was putting too much pressure on myself but that's the benefit of hindsight."
Compton, who hit back-to-back Test centuries in New Zealand in March, rediscovered his form against Durham, scoring 166 in Somerset's first innings, and he was pleased to get back out to the middle at Taunton.
"The importance of the innings is about me going out and feeling good again," he added.
"I haven't been in the best of form, there's no doubt, but it's nice to return home to a place where I'm supported."