Champions Trophy: England must be proactive - Alec Stewart

By Alec Stewart
Former England captain
Last updated on .From the section Cricket104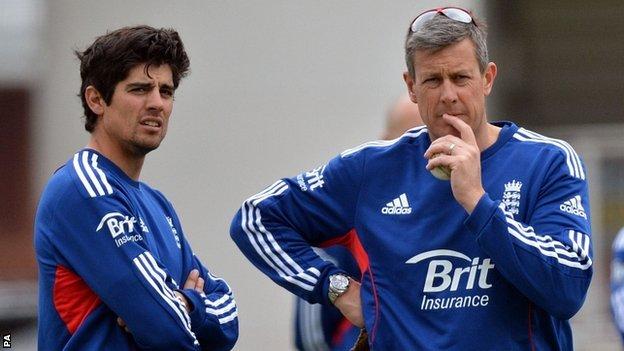 How quickly things can change in cricket.
I too was critical of the lack of big scores from the top order and the bowlers failing to put the opposition on the back foot with early wickets.
Seven days, and two victories, later, they are being hailed as potential Champions Trophy winners.
I was pleased to see England getting back to playing better, more consistent cricket in the victories over New Zealand in the third one-dayer and Australia in their opening Champions Trophy group game.
In both matches, Ian Bell made good contributions at the top of the order and England kept wickets in hand to allow their big-hitting and inventive middle-order players to push them on to a competitive total.
This was backed up by disciplined bowling displays, with James Tredwell, Joe Root and Ravi Bopara lending strong support to England's new-ball attack.
The challenge now for England is to show that they can also be flexible and adapt to different match situations and pitches as the tournament develops.
The tempo at which they batted against Australia to make 269-6 proved perfectly adequate to overcome a team that were never really at the races, but I still think - as Bell admitted - they were 30 runs short of a par total on a batsman-friendly pitch.
England's strategy of keeping wickets in hand is a very effective plan A, but they will not always be able to rely on Jos Buttler or Eoin Morgan to provide the acceleration in the last few overs and they need to be able to recognise when to move from plan A to plan B.
At no stage am I urging England to be reckless, but the very best teams have players who can think on their feet and adjust their approach accordingly.
Top sides are proactive in their decision-making and not just reactive.
One example of this could be the decision over when to take the batting powerplay. The tendency of many teams is to wait until the 35th over, but why not take it earlier if you are in a strong position with the players at the crease to take advantage?
There is no one set formula to constructing a one-day innings. Even if you get a good start you won't always score 300 because conditions can change. The pitch can start taking more spin or the ball can go soft, making it harder to find the boundary.
It is therefore essential that the batsmen at the crease keep in touch with the dressing room about how the conditions are changing and what a par score should be.
One area in which England have been flexible is in selection, with Bopara replacing one of the four seamers in the last two matches to give England a slightly longer batting line-up and a more variation in their bowling.
Tredwell has proved a more than adequate replacement for Graeme Swann, opening up the possibility of playing two spinners if the pitch conditions lend themselves to it later in the tournament.
England have a good squad and one that will cover most bases, which is not something you could really say about Australia at the moment.
On Saturday, they played in a very conservative, subdued and un-Australian manner. Without Michael Clarke, they lack a world-class cricketer and they failed to really ask any questions of England with either bat or ball.
From what I have seen of New Zealand, they should be fancying their chances against their Antipodean neighbours at Edgbaston on Wednesday.
As for the other teams, it is too early to make any firm judgements but India and West Indies have impressed me so far with their flair and positive instincts.
I have been impressed by the pace of Pakistan's trio of bowlers - Wahab Riaz, Mohammad Irfan and Junaid Khan - but their batting has let them down. South Africa's excellent victory over the Asian side on Monday has kept them in the tournament, but they have been badly weakened by the loss of four world-class players in Graeme Smith, Jacques Kallis, Morne Morkel and Dale Steyn.
All in all, the tournament so far has been excellent, with the top eight sides in the world competing in two groups for four semi-final places.
In this format, every game matters and some of the cricket has been riveting.