Matthew Maynard left 'broken' by son Tom's death
By James Peacock
BBC Radio 5 live
Last updated on .From the section Cricket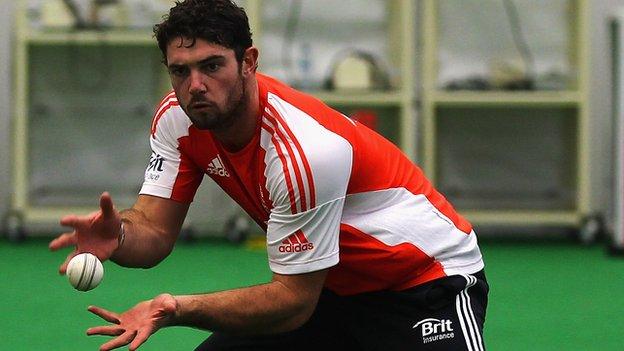 It has been a year since the former England cricketer Matthew Maynard heard the tragic news about his son.
Twelve months on and Maynard says his family has been left "broken" by what happened that night.
They were astonished to learn about a different side of Tom from the inquest into his death.
The jury was told how hair samples showed levels of cocaine "consistent with regular or habitual use" and a post mortem revealed ecstasy in the form of MDMA.
The Maynards - wife Sue and daughter Ceri - chose not attend the hearing in February after being warned about how upsetting it might be.
They are now sure they made the right decision after seeing the graphic portrayals of Tom's lifestyle in the media.
Speaking to former England captain Michael Vaughan for a BBC Radio 5 live interview, Matthew Maynard says: "He has been made out to be some sort of druggie and he wasn't.
"That makes us angry - because that wasn't Tom. He was a good cricketer who loved the game."
The tragic sequence of events that led to Tom's death began on 17 June after Surrey lost a Twenty20 match to Kent at Beckenham.
It is not unusual for county cricketers to have a few drinks after a defeat - it helps to "get it out of the system," Maynard says.
But this was more than a few drinks.
Tom went to a pub with some team-mates where, the inquest heard, they had "four pints of beer and a couple of shots".
They continued drinking at the house he shared with Surrey captain Rory Hamilton-Brown before heading to a nightclub.
In the early hours of 18 June, Tom's body was found on the tracks near Wimbledon Park. He was 23.
He was pulled over by police after "driving erratically" but subsequently abandoned his car and fled the scene.
Maynard adds: "He made some poor decisions that night in the house and in his car.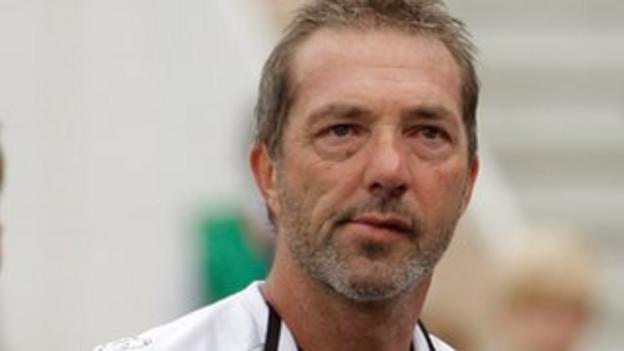 "We'll never know what went through his mind. Obviously he took some social drugs - but he wasn't the type of person who needed that kind of lift."
Two of Tom's Surrey team-mates who had been with him that night were witnesses at his inquest.
England's Jade Dernbach and Hamilton-Brown, a friend since his school days at Millfield, said they had no idea he used drugs.
Maynard says: "We were absolutely amazed that drugs were involved. I find it astonishing that no-one else knew."
In the interview with Vaughan, Maynard paints a different portrait of his son who, as a mischievous young kid with bags of natural talent, was destined to play cricket.
A former Glamorgan team-mate of Maynard's, Steve James, wrote in The Sunday Telegraph that he was known as "Tommy Trouble".
In truth, James added, he was no trouble at all.
Maynard says: "Before Tom could walk he was in the dressing room at Glamorgan, it was that sort of club in those days.
"He was always there, part of the furniture.
"Sometimes he took it too far by going into people's bags. He was always going through Mark Wallace's kit.
"I remember one game when Tom congratulated Sid [Steve James] for a six he hit.
"Steve will tell you he didn't hit too many of those in his career."
Tom, 10 at the time, was clearly already showing an appreciation for the sort of crisp, powerful hitting for which he would become known.
He went on to sign for Glamorgan in 2007 and his father would soon double up as his coach.
Maynard adds: "We were chuffed but then I sat him down and told him, 'there are two sides to me now'.
"'You can't call me Dad and I am not going to treat you as my son in the dressing room - you're a Glamorgan player'.
"I told him if he stepped out of line he would be disciplined like any other player."
And he was. After being late for a bus on a pre-season tour to South Africa, he was dropped for the next game.
Both Maynards left Glamorgan in acrimonious circumstances in 2010.
Matthew resigned when he felt the club's new management structure undermined his authority.
Out of loyalty to his father, Tom said he would never play for the county again.
Maynard says: "A lot of counties were interested in signing him. Surrey was his first choice. Obviously Rory being there was a big influence, he enjoyed his captaincy.
"He was also friendly with a few other guys. I knew Chris Adams really well. He is a good coach and I was impressed by his ideas for the club.
"For cricketing reasons, it was a perfect fit."
Tom was starting to impress on the pitch, averaging over 40 with the bat for Surrey.
In early 2012 he played for the England Lions on their tour to Bangladesh. In the month before he died, he scored 143 on a tricky fourth day batting surface at Worcester in the County Championship.
Maynard says it was the best he ever saw his son play, adding that "his cricket was flying".
Vaughan asks Maynard if he ever allows himself to think about what might have been.
"I haven't been there and I don't think I could," Maynard replies.
"It's great to see young players like Joe Root coming through for England but I can't allow myself to think, 'that could have been Tom'.
"You can't dwell on these things, otherwise you'll end up broken - and we already have been as a family."
Once the tape stops recording, the conversation turns again to Yorkshire's Root.
"The way he bats reminds me a lot of you," Maynard tells Vaughan.
They then agree that the 22-year-old has the temperament allied to the talent to thrive at the top level.
The world will never know how Tom would have fared alongside him in a future England batting order.
Helping others to fulfil their potential is now the Maynards's focus.
They have set up the Tom Maynard Trust, which will provide funding and the opportunity for others to realise their dreams.
"That is exactly what Tom was doing," Maynard concludes.