Ashes 2013: Australia's Ricky Ponting 'could return to help side'
Last updated on .From the section Cricket85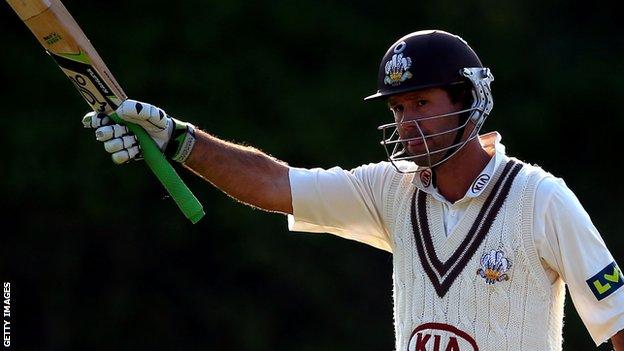 Former captain Ricky Ponting would happily return to the Australia team for this summer's Ashes, according to his old team-mate Michael Slater.
In-form Ponting, 38, recently scored 192 on his Surrey debut, while the Aussies have struggled in one-day games after a series whitewash in India.
"If they said, 'we are desperate Ricky, we want you' I'm sure he would put his hand up," Slater told BBC Radio 5 live.
"There are many questions Australians have over our current set-up."
Australia lost a Test series 4-0 to India earlier in 2013, and were defeated at home by South Africa at the end of 2012.
In between, they beat Sri Lanka 3-0 but those are their only victories in their past 10 Test matches.
England have won the last two Ashes series and the teams meet again in back-to-back series beginning on 10 July.
"We're not very confident running into the Ashes series," said Slater, who played in four Ashes-winning series for Australia and made 5,312 runs in 74 Tests.
[Captain] "Michael Clarke is an A-grade player and is trying to lift everyone to his level. But his back problem is an on-going chat over here. There's every possibility he'll sit out the whole Champions Trophy.
"I know you think Aussies are pretty cocky but I don't think we're too cocky at the moment."
Ponting made only 32 runs in five innings against the South Africans and announced his decision to retire before the third Test in November 2012.
Slater told BBC Radio 5 live's Sportsweek: "One thing I know about Ricky is he just loves the game and there's no doubt he would love to have been there in Australian colours right now.
"He certainly didn't want to retire when he did but he was forced to through lack of form and all this questioning about his technique.
"He wasn't in top form for two years but he was still good enough to carve out a few runs.
"Australia's batting needs to fire and I don't care who puts their hands up and scores the runs.
"We've got wicket-taking ability but without runs you are putting the bowlers under pressure.
"The batters need to knuckle down, improve technique and, more importantly, show they want to stay at the pitch for a lengthy period. That's the only way I think we can win the series over there."