Champions Trophy: Alastair Cook and Ian Bell praise bowlers
By Justin Goulding
BBC Sport at Edgbaston
Last updated on .From the section Cricket58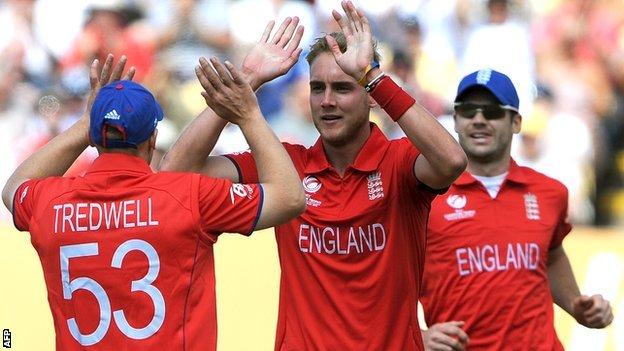 Alastair Cook praised his bowlers after England beat Australia by 48 runs in their opening Champions Trophy match.
"Jimmy and [Stuart] Broady were exceptional in the first 10 overs," said Cook. "Jimmy is a great bowler.
"He just keeps getting better and better and we are lucky to have him."
Man-of-the-match Bell also believed the performance from England's bowlers was vital in ensuring their winning start to the competition.
"Jimmy was outstanding and it was great for us to be able to celebrate him becoming the leading wicket-taker as well," said Bell. "It's been a massive day for him.
"The best time to bat on that wicket was with the hard new ball - and the way Jimmy and Broady set the tone was very important for us in the first 10 overs. All of our seamers were fantastic."
James Tredwell, named in the England side after fellow off-spinner Graeme Swann was ruled out with a stiff back, was central to keeping Australia in check before some late punishment left him with figures of 1-51.
"Jimmy Tredwell never lets us down; he's got a great record," added Bell. "We knew the longer the innings went on with the ball getting softer there'd be turn for Tredwell, and we'd be able to keep it nice and tight in the middle to late overs.
"It was unfortunate that Swanny was injured but he's the perfect bloke to come in and replace him. He's been fantastic for us every time he gets the opportunity."
George Bailey, leading Australia once more in the absence of the injured Michael Clarke - who is hoping to be fit for the game against New Zealand on Wednesday - echoed Bell's sentiments on Anderson.
"He's so skilful; he's got the record he's got because of the skills he has," said Bailey, who made a defiant 55 off 69 balls.
"The fact he started reverse swinging it, we were expecting that. But for him to be so accurate is testament to how important he is to the England team.
"England exploited the conditions and the wearing nature of the pitch. It was flattering in the end to only lose by 50 or so runs."
Bailey played down the significance of Australia's defeat in their first meeting with England in an Ashes summer.
"It's England-Australia; it's a huge rivalry and every game means something," he said.
"It's not a marker; well, it might be but we can only say that in hindsight."
Bell added: "The important thing was to win; it didn't matter who we were playing.
"It's the first game of the tournament and we wanted to get a good start. Whether it's Australia or Sri Lanka wasn't that important; it was about getting off to a good start."