Matthew Fisher: Yorkshire 15-year-old breaks 91-year-old record
Last updated on .From the section Cricket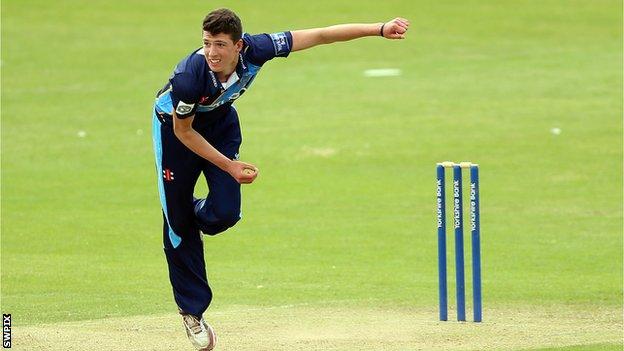 A teenager from York has broken a 91-year-old record to become the youngest cricketer to play in a competitive county game.
Seamer Matthew Fisher, at the age of 15 years and 212 days, appeared for Yorkshire in a YB 40 match and broke the previous mark held by Glamorgan's Royston Gabe-Jones by 62 days.
Fisher was allowed to postpone his GCSE French oral exam in order to play.
"It was a great experience with the crowd behind me," he said.
"The teachers were here and wished me luck so I was grateful for that.
"I was supposed to do an exam but thankfully I contacted my teacher and he told me I could re-schedule it for another day - I was gutted about that as you can imagine!
"I'm not sure when the exam will be yet but hopefully I will have some time to prepare."
Fisher took 1-40 in seven overs during Yorkshire's three-wicket defeat by Leicestershire. The teenager had impressed with figures of 6-25 in a ­second XI match against Leicester last week.
"I coached Tim Bresnan when he was in the England Under-15 side as a 14-year-old and I would say that Matthew is a better bowler than ­Bressie at the same stage," said second XI coach Paul Farbrace.
In April 2011, Yorkshire wicketkeeper Barney Gibson became the youngest player to play in an English first-class game when he appeared against Durham University aged 15 years and 27 days.
Gibson, who took two catches, broke the record set by Hampshire's Charles Young in 1867, but is still waiting for his second appearance in the senior side.
Meanwhile, 17-year-old Ryan Gibson also made his Yorkshire debut in the game against Leicestershire.
Yorkshire's youthful side also included 19-year-olds Ben Coad and Will Rhodes, making their second and fifth appearances respectively.